Healthy Mega® - Prolonged Release Tablets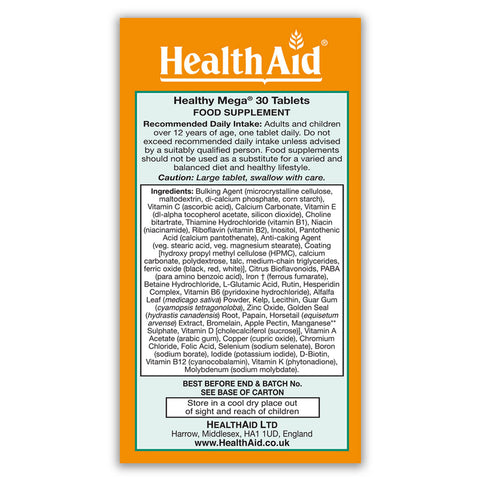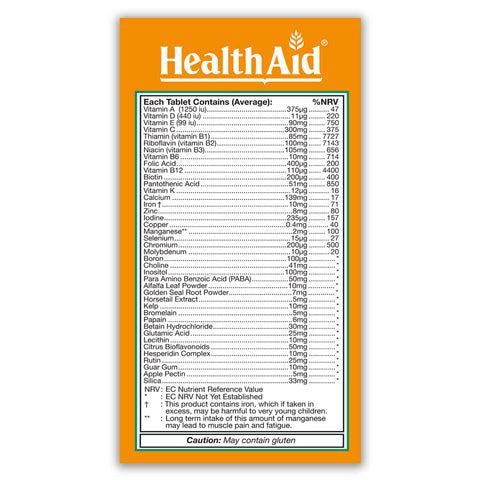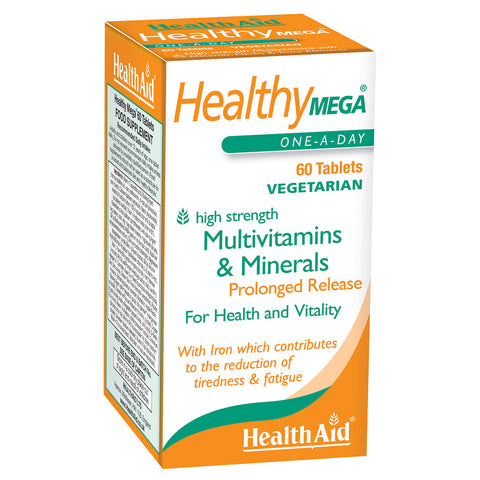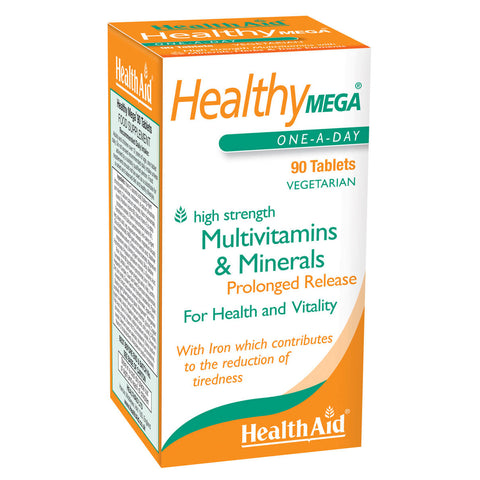 ---
---
Healthy Mega is a unique formula containing 13 high-strength Vitamins and 10  Minerals, fortified with Bioflavonoids, Antioxidants, Herbal Extracts, Supergrasses and Digestive Enzymes in a synergistically balanced, prolonged release one-a-day formula to ensure optimal nutritional needs are met.   
It contains the best nutrients your mind and body need to boost energy, metabolism, detoxification, digestion, cognition and benefit a healthy nervous and immune system.  
The distinct difference between Healthy Mega and most other popular multivitamin-mineral formulas is that Healthy Mega is prolonged release, much higher in B Vitamins and it contains additional ingredients such as Alfalfa, Kelp, PABA, Golden Seal Root, Horsetail Herb, Natural Digestive Enzymes (Bromelain and Papain), Citrus Bioflavonoids, Hesperidin Complex, Rutin, Apple Pectin, Guar Gum and Betaine Hydrochloride. 
Benefits
Recommended Daily Intake
Adults and children over 12 years of age, one tablet daily. Do not exceed recommended daily intake unless advised by a suitably qualified person. Food supplements should not be used as a substitute for a varied and balanced diet and healthy lifestyle.
Free From
Free From Gluten, Dairy, Yeast, Lactose, Wheat, Artificial Preservatives and Flavourings.
Nutritional Information
Healthy Mega® - Prolonged Release Tablets contains (average):
Nutrient
Value
NRV %
Vitamin A (1250 iu)
375μg
47
Vitamin D (440 iu)
11μg
220
Vitamin E (135 iu)
90mg
750
Vitamin C
300mg
375
Thiamin (Vitamin B1)
85mg
7727
Riboflavin (Vitamin B2)
100mg
7173
Niacin (Vitamin B3)
105mg
656
Vitamin B6 (Pyridoxine)
10mg
714
Folic acid
400μg
200
Vitamin B12
110μg
4400
Biotin
200μg
400
Pantothenic acid (Vitamin B5)
51mg
850
Vitamin K
12μg
16
Calcium
139mg
17
Iron †
10mg
71
Zinc
8mg
80
Iodine
235μg
157
Copper
0.4mg
40
Manganese **
2mg
100
Selenium
15μg
27
Chromium
200μg
500
Molybdenum
10μg
20
Boron
100μg
*
Choline
41mg
*
Inositol
100mg
*
Para Amino Benzoic Acid (PABA)
50mg
*
Alfalfa Leaf Powder
10mg
*
Golden Seal Root Powder
7mg
*
Horsetail Extract
5mg
*
Kelp
10mg
*
Bromelain
5mg
*
Betain Hydrochloride
30mg
*
Glutamic Acid
25mg
*
Citrus Bioflavanoids
50mg
*
Hesperidin Complex
10mg
*
Guar Gum
10mg
*
Apple Pectin
5mg
*
Silica
33mg
*
Rutin
25mg
*
Lecithin
10mg
*
Papain
6mg
*
*: EC Nutrient Reference Value Not Yet Established
Ingredients
Vitamin C (ascorbic acid), Bulking Agent (microcrystalline cellulose, maltodextrin, di-calcium phosphate, corn starch), Calcium (calcium carbonate), Niacin (niacinamide), Inositol, Riboflavin (vitamin B2), Natural Vitamin E (d-alpha tocopherol acetate), Thiamin Hydrochloride (vitamin B1), Pantothenic Acid (calcium pantothenate), Anti-caking Agent (veg. stearic acid, veg. magnesium stearate, magnesium silicate), Citrus Bioflavanoids, PABA (para amino benzoic acid), Stabiliser (crosscarmellose sodium), Choline (choline bitartrate), Magnesium (magnesium oxide), Binding Agent (acacia), Silica, Betaine Hydrochloride, Potassium (potassium chloride), L-Glutamic Acid, Rutin, Vitamin B6 (pyrodixine hydrochloride), Iron † (ferrous fumarate), Alfalfa Leaf Powder (medicago sativa), Kelp, Lecithin, Hesperidin Complex, Guar Gum Seed (cyamopsis tetragonoloba), Zinc (zinc oxide), Golden Seal Root (hydrastis canadensis), Papain, Horsetail Extract (equisetum arvense), Bromelain, Apple Pectin, Glazing Agent (pharmaceutical glaze), Manganese** (manganese sulphate), Sweetener/Flavour Enhancer (mannitol, glycine), Copper (cupric oxide), Acidity Regulator (aspartic acid, citric acid), D-Biotin, Folic Acid, Vitamin A Acetate, Iodide (potassium iodide), Chromium (chromic chloride), Vitamin B12 (cynocobalamin), Boron (sodium borate), Selenium (sodium selenate), Vitamin K (phytonadione), Vitamin D (cholecalciferol), Molybdenum (sodium molybdate).