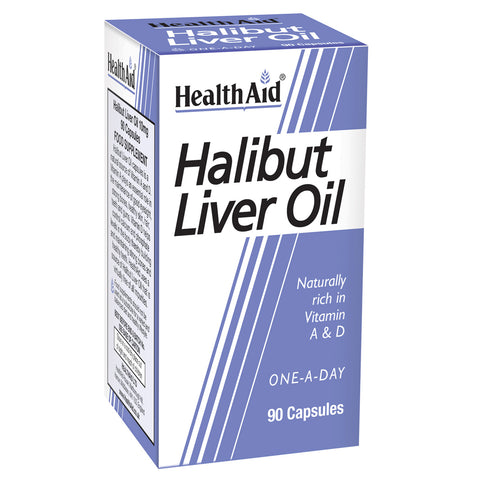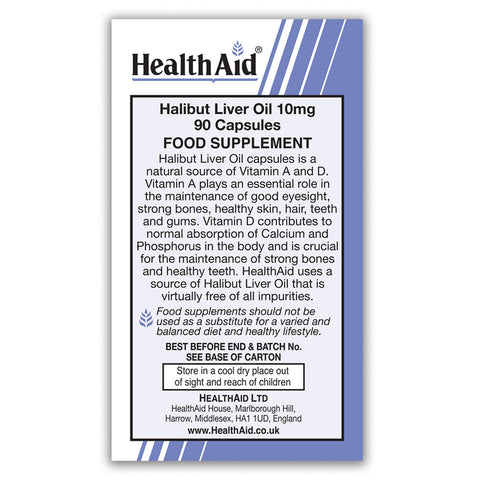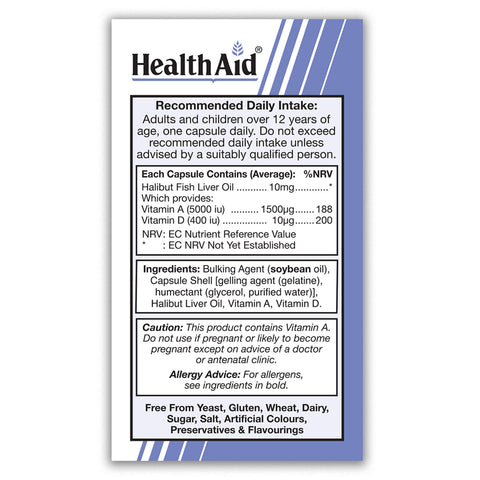 ---
---
Halibut fish is known for its nutrient content and potential health benefits. Halibut Liver Oil is a natural source of Vitamins A and D. These two Vitamins play a vital role in promoting general health and contributing to a sense of well-being. Vitamin A plays a vital role in supporting vision, immune function and skin health. Vitamin D is crucial for maintaining strong bones, regulating calcium levels and promoting a healthy immune system. As HealthAid Halibut Liver Oil is naturally sourced, it is virtually free from all impurities and contaminants.  
Benefits
Recommended Daily Intake
Adults and children over 12 years of age, one capsule daily. Do not exceed recommended daily intake unless advised by a suitably qualified person.
Free From
Free From Yeast, Gluten, Wheat, Dairy, Sugar, Salt, Artificial Colours, Preservatives and Flavourings.
Nutritional Information
Halibut Capsules contains (average):
Nutrient
Value
%NRV
Halibut Fish Liver Oil
10mg
*
Vitamin A (5000iu)
1500µg
188
Vitamin D (400iu)
10µg
200
*: EC Nutrient Reference Value Not Yet Established
Ingredients
Bulking Agent (soybean oil), Capsule Shell [gelling agent (gelatine), humectant (glycerol, purified water)], Halibut Liver Oil, Vitamin A, Vitamin D.