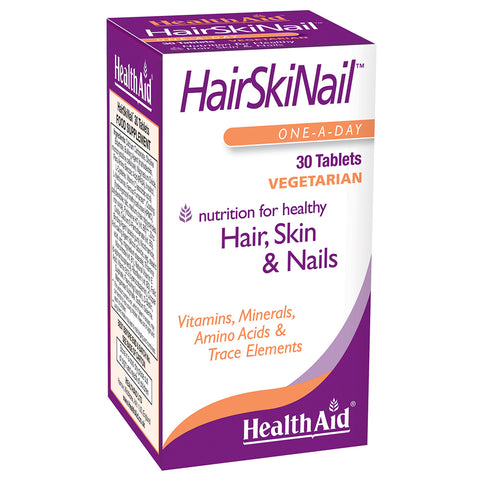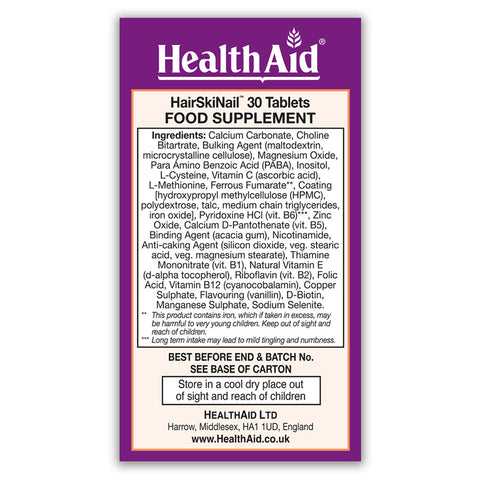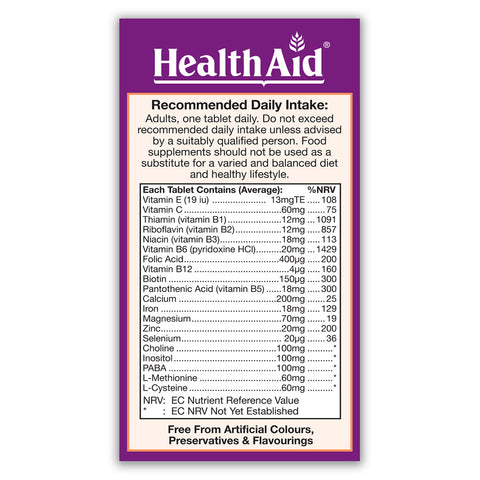 ---
---
HairSkiNail™ tablets contain specific Vitamins that play a significant role in helping to maintain healthy hair, skin and nails. HairSkiNail™ Tablets have been formulated using Vitamins, Minerals and important Amino Acids, nutrients that are metabolised to provide nutrients to these specific areas, as well as maintaining the digestive system and proper blood circulation. HairSkiNail™ Tablets are not only a supplement for hair, skin and nails; the B Vitamins promote metabolism, Vitamin E contributes to normal circulation and hormonal balance and the selected Amino Acids have strong antioxidant properties and are also support liver health. 
Benefits
Recommended Daily Intake
Adults, one tablet daily. Do not exceed recommended daily intake unless advised by a suitably qualified person.
Free From
Free From Artificial Colours, Preservatives and Flavourings.
Nutritional Information
HairSkiNail™ Tablets contains (average):
Nutrient
Value
%NRV
Vitamin E (19 iu)
13 mg TE
108
Vitamin C (Ascorbic Acid)
60 mg
75
Vitamin B1 (Thiamin Hydrochloride)
12mg
1091
Vitamin B2 (Riboflavin)
12 mg
857
Vitamin B3 (Niacin)
18 mg
113
Vitamin B6 (Pyridoxine Hydrochloride)
20 mg
1429
Folic Acid (Folacin)
400 µg
200
Vitamin B12
4 µg
160
Biotin
150 µg
300
Pantothenic Acid (Vitamin B5)
18 mg
300
Calcium
200 mg
25
Iron
18 mg
129
Magnesium
70 mg
19
Zinc
20mg
200
Selenium
20 µg
36
Choline (Dihydcitrate)
100 mg
*
Inositol
100 mg
*
Para Aminobenzoic Acid (PABA)
100 mg
*
L-Methionine
60 mg
*
L-Cysteine
60 mg
*
*: EC Nutrient Reference Value Not Yet Established
Ingredients
Calcium Carbonate, Choline Bitartrate, Bulking Agent (maltodextrin, microcrystalline cellulose), Magnesium Oxide, Para Amino Benzoic Acid (PABA), Inositol, L-Cysteine, Vitamin C (ascorbic acid), L-Methionine, Ferrous Fumarate**, Coating [hydroxypropyl methylcellulose (HPMC), polydextrose, talc, medium chain triglycerides, iron oxide], Pyridoxine HCl (vit. B6)***, Zinc Oxide, Calcium D-Pantothenate (vit. B5), Binding Agent (acacia gum), Nicotinamide, Anti-caking Agent (silicon dioxide, veg. stearic acid, veg. magnesium stearate), Thiamine Mononitrate (vit. B1), Natural Vitamin E (d-alpha tocopherol), Riboflavin (vit. B2), Folic Acid, Vitamin B12 (cyanocobalamin), Copper Sulphate, Flavouring (vanillin), D-Biotin, Manganese Sulphate, Sodium Selenite.