Glucosamine Sulphate 500mg Tablets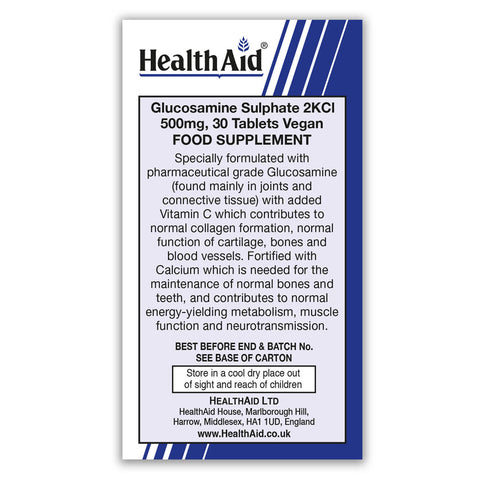 ---
---
In the reversal or the prevention of certain age-related aches and twinges, you may be searching for an effective supplement. Glucosamine is needed by the body to manufacture specialised molecules found in cartilage. With age, the need for Glucosamine becomes greater. After much research and combinations, HealthAid®'s formulation has a special ratio of Glucosamine Sulphate, Calcium and Vitamin C.
The Glucosamine Sulphate 500mg tablets are a careful combination of nutrients that benefit the maintenance of joint mobility, suppleness and elasticity of tendons, ligaments and connective tissue. Additionally, Glucosamine and Vitamin C both contribute to the protection of cells from oxidative stress.
Glucosamine Sulphate?Tablets?are specially formulated with?Vitamin C?and?Calcium. Connective tissue that makes up the spinal discs, ligaments, cartilage and tendons between the joints is constantly being repaired and renewed. ?The body does this via complex chemical processes, using substances such as collagen and Glucosaminoglycines. Glucosamine Sulphate is one of the active constituents that help to make up the Glucosaminoglycines.
Benefits
Recommended Daily Intake
Adults and children over 12 years of age: one tablet daily, preferably in the evening with food. Cab be increased to two tablets daily if required.  Do not exceed recommended daily intake unless advised by a suitably qualified person.
Free From
Free from added Sugar Free from Yeast, Gluten, Wheat, Soya, Dairy Free from Artificial Colours, Preservatives & Flavourings Suitable for Vegetarians and Vegans
Nutritional Information
Glucosamine Sulphate 500mg Tablets contains (average):
Nutrient
Value
%NRV
Glucosamine Sulphate 2Kcl
500mg
*
Free Glucosamine
300mg
*
Vitamin C
300mg
375
Calcium
300mg
38
*: EC Nutrient Reference Value Not Yet Established
Ingredients
Glucosamine Sulphate 2KCl, Calcium (calcium carbonate), Vitamin C (ascorbic acid), Binding Agent [microcrystalline cellulose, sodium carboxymethyl starch (CMS-Na), polyvinylpyrrolidone (PVP)], Glazing Agent [hydroxy propyl methyl cellulose (HPMC)], Anti-caking Agent (veg. magnesiumstearate, silicon dioxide).