Glucosamine Sulphate 2KCl 1000mg Tablets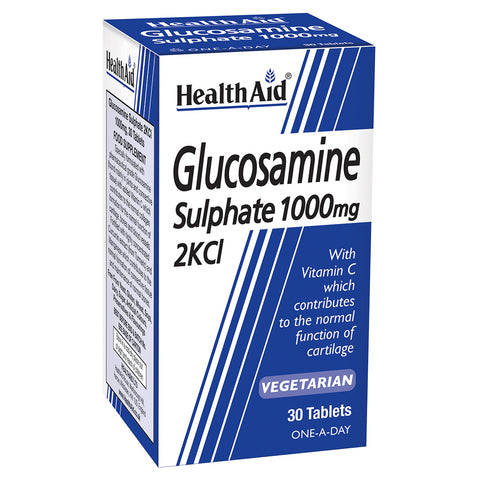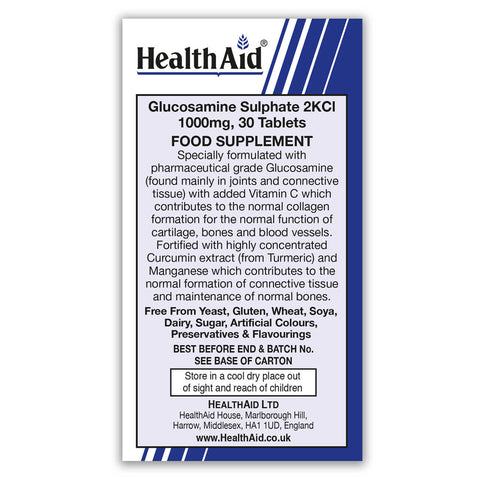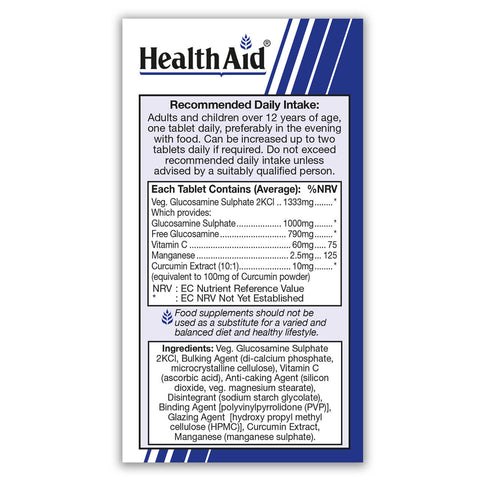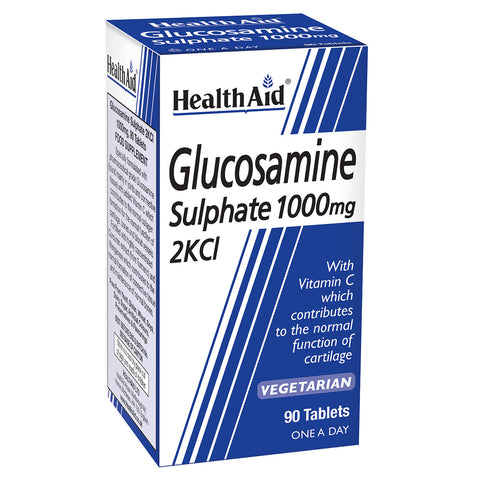 ---
---
We cannot stop time however hard we try. What we can do is support our body to slow down the signs of ageing. Aching joints, stiffness when they bend, and bone density deterioration are all natural parts of the process. We have a solution to add the bounce back to your joints. Glucosamine is found in joints and connective tissue and is essential for cartilage maintenance and repair. Add in a little extra to support your body. We have added in a few more ingredients which also contribute to healthy joints, bone health, and influence reducing oxidative stress.
HealthAid®'s Glucosamine Sulphate 1000mg 2KCl Tablets contain high-quality Glucosamine, which is essential for the care and maintenance of healthy cartilage and joint function.?It is a natural non-toxic body constituent that is continuously incorporated into cartilage and synovial fluid during renewal, to maintain healthy, mobile joints. Specially formulated using a unique combination of Vitamin C, Calcium, Manganese and Curcumin to provide optimum absorption and benefit to the body.
So be prepared to bounce and jump once again. With just the right diet and exercise, Glucosamine Sulphate 1000mg 2KCl Tablets that contain additional Vitamin C, Manganese and Curcumin might contribute to a healthier lifestyle.
Benefits
Recommended Daily Intake
Adults and children over 12 years of age: one tablet daily preferably in the evening with food. Do not exceed recommended daily intake unless advised by a suitably qualified person.
Free From
Free from added Sugar or Salt Free from Gluten, Yeast, Starch, Wheat, Soya, Nut. Free from Artificial Colours, Preservatives, and Flavourings Suitable for Vegetarians
Nutritional Information
Glucosamine Sulphate 2KCl 1000mg Tablets contains (average):
Nutrient
Value
%NRV
Glucosamine Sulphate 2Kcl
1333mg
*
Glucosamine Sulphate
1000mg
*
Free Glucosamine
790mg
*
Vitamin C (Ascorbic Acid)
60mg
75
Manganese
2.5mg
125
Curcumin extract (10:1)
10mg
*
*: EC Nutrient Reference Value Not Yet Established
Ingredients
Veg. Glucosamine Sulphate 2 KCl, di-calcium Phosphate, Microcrystalline Cellulose, Vitamin C (ascorbic acid), Silicon Dioxide, Sodium Starch Glycolate, Polyvinylpyrrolidone (PVP), Coating: Hydroxy Propyl Methyl Cellulose (HPMC), Veg. Magnesium Stearate, Curcumin Extract, Manganese (manganese sulphate).