Glucosamine Sulphate 1500mg 2KCl Tablets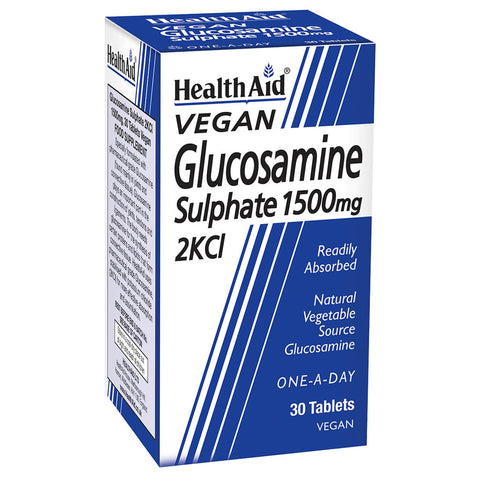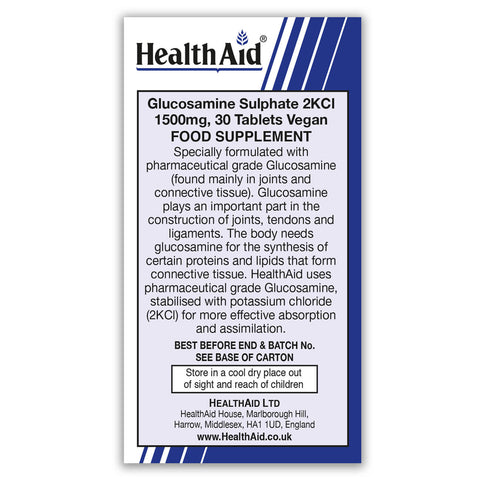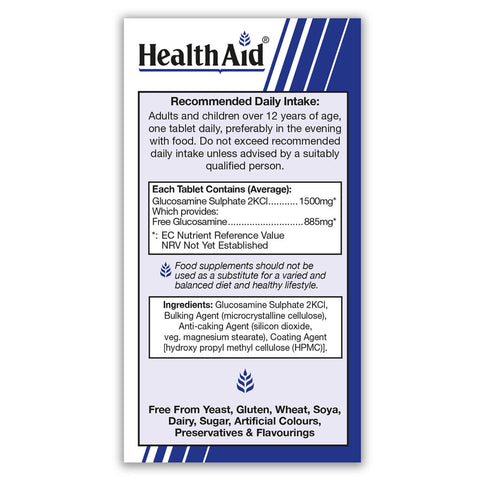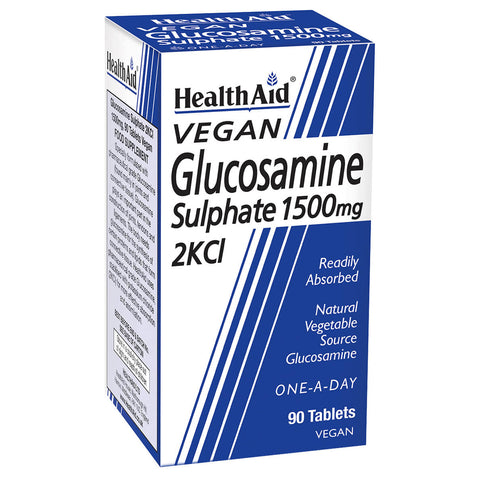 ---
---
Creaky old aching joints do not have to be an inevitable result of aging. The natural aging process usually results in joint issues and potential bone structure weakening. You could also be better prepared to reduce the effect the aging process has on your joints. There is a solution! Glucosamine is found mainly in joints and connective tissue and is essential for cartilage maintenance and repair. It contributes to the maintenance of joint mobility, suppleness and elasticity of tendons, ligaments and connective tissue.
Glucosamine Sulphate 1500mg Tablets contain Glucosamine, which is needed by the body to manufacture specialised molecules found in cartilage. With age, the need for Glucosamine becomes greater and supplementation is recommended. Glucosamine Sulphate 1500mg from HealthAid® uses pharmaceutical grade Glucosamine, stabilised with potassium chloride (2KCL), which can be effectively absorbed and assimilated by the body.
So, you're looking to stop the crackly and pop, the stiffness, and the throb of aging joints? Glucosamine Sulphate 1500mg 2KCl has been specially formulated to help maintain supple, flexible joints, strong cartilage and a healthy skeleton.
Benefits
Recommended Daily Intake
Adults and children over 12 years of age: one tablet daily, preferably in the evening with food.
Free From
Free from added Sugar or Salt Free from Corn, Gelatin, Lactose, Starch, Yeast, Gluten, Wheat, Nut, Soya and Dairy Free from Artificial Colours, Preservatives, and Flavourings Suitable for Vegans and Vegetarians
Nutritional Information
Glucosamine Sulphate 1500mg 2KCl Tablets contains (average):
Nutrient
Value
%NRV
Glucosamine Sulphate 2KCL
1500mg
*
Free Glucosamine
885mg
*
*: EC Nutrient Reference Value Not Yet Established
Ingredients
Glucosamine Sulphate 2KCl, Bulking Agent (Microcrystalline Cellulose), Anti-caking Agent (silicon dioxide, veg.magnesium stearate), Coating Agent [hydroxy propyl methyl cellulose (HPMC)].