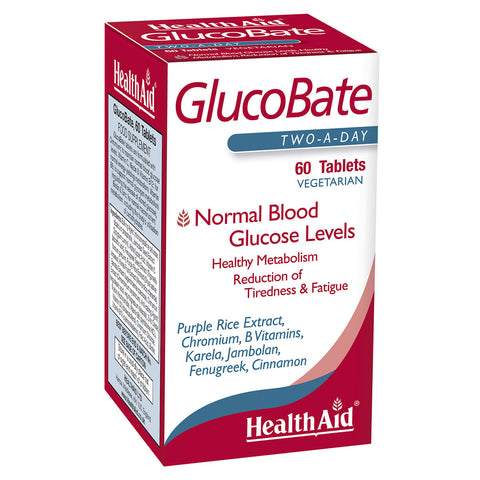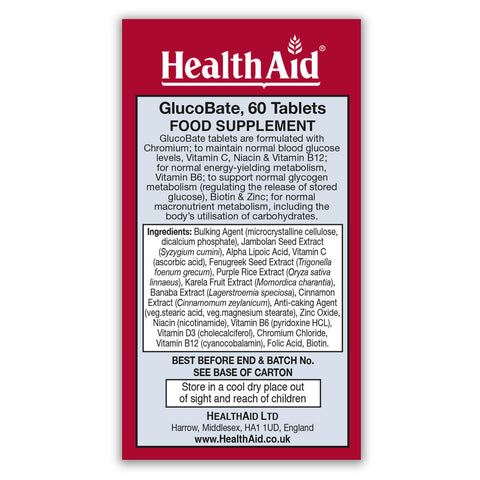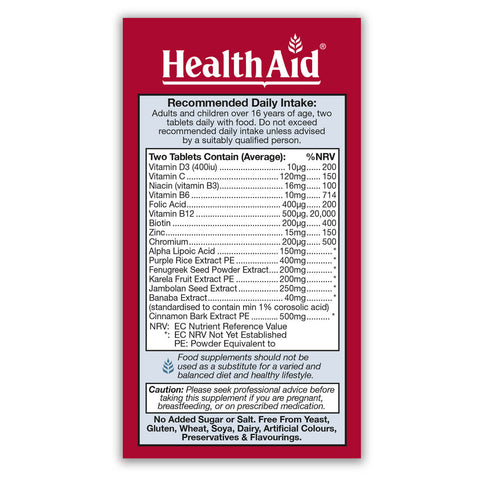 ---
---
Hereditary factors or complications from modern lifestyle choices can contribute to diabetes Type 1 or Type 2. Unbalanced blood glucose levels can cause several complications that make this health issue problematic to many people. Influenced by your dietary lifestyle and physical well-being, diabetes care may be supplemented with key nutrients and plant extracts to support and contribute to the overall quality of life. 
GlucoBate tablets are formulated with Chromium to maintain normal blood glucose levels, Vitamin C, Niacin and Vitamin B12 for normal energy-yielding metabolism, Vitamin B6 to support normal glycogen metabolism (regulating the release of stored glucose), Biotin and Zinc for normal macronutrient metabolism, including the body's utilisation of carbohydrates. 
HealthAid® GlucoBate also combines natural plant extracts such as Fenugreek, Karela, Jambolan, Banaba and Cinnamon which are often recommended to be used together with Chromium to help maintain normal blood glucose levels. 

Recommended Daily Intake
Adults and children over 16 years of age, two tablets daily with food. Do not exceed recommended daily intake unless advised by a suitably qualified person.
Free From
Free From Yeast, Gluten, Wheat, Soya, Dairy, Artificial Colours, Preservatives and Flavourings, No Added Sugar or Salt.
Nutritional Information
GlucoBate Tablets contains (average):
Nutrient
Value
%NRV
Vitamin D3 (400iu)
10μg
200
Vitamin C
120mg
150
Niacin (vitamin B3)
16mg
100
Vitamin B6
10mg
714
Folic Acid
400μg
200
Vitamin B12
500μg
20,000
Biotin
200μg
400
Zinc
15mg
150
Chromium
200μg
500
Alpha Lipoic Acid
150mg
*
Purple Rice Extract PE
400mg
*
Fenugreek Seed Powder Extract
200mg
*
Karela Fruit Extract PE
200mg
*
Jambolan Seed Extract
250mg
*
Banaba Extract (standardised to contain min 1% corosolic acid)
40mg
*
Cinnamon Bark Extract PE
500mg
*
PE: Powder Equivalent to
*: EC Nutrient Reference Value Not Yet Established
Ingredients
Bulking Agent (microcrystalline cellulose, dicalcium phosphate), Jambolan Seed Extract (Syzygium cumini), Alpha Lipoic Acid, Vitamin C (ascorbic acid), Fenugreek Seed Extract (Trigonella foenum grecum), Purple Rice Extract (Oryza sativa linnaeus), Karela Fruit Extract (Momordica charantia), Banaba Extract (Lagerstroemia speciosa), Cinnamon Extract (Cinnamomum zeylanicum), Anti-caking Agent (stearic acid, magnesium stearate), Zinc Oxide, Niacin (nicotinamide), Vitamin B6 (pyridoxine HCL), Vitamin D3 (cholecalciferol), Chromium Chloride, Vitamin B12 (cyanocobalamin), Folic Acid, Biotin.