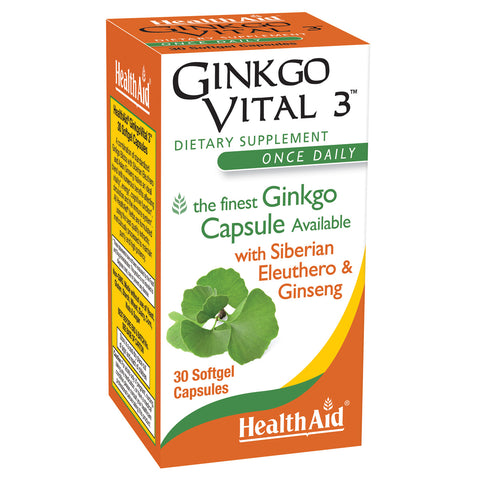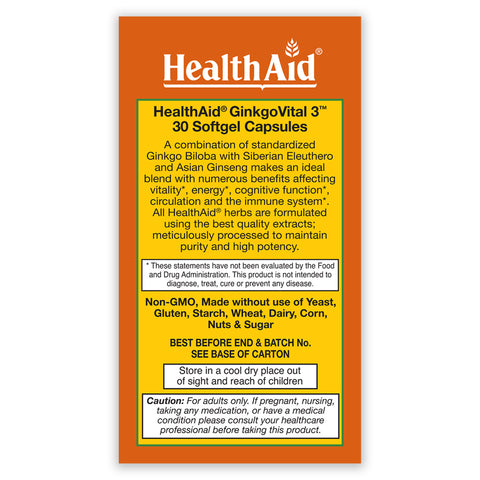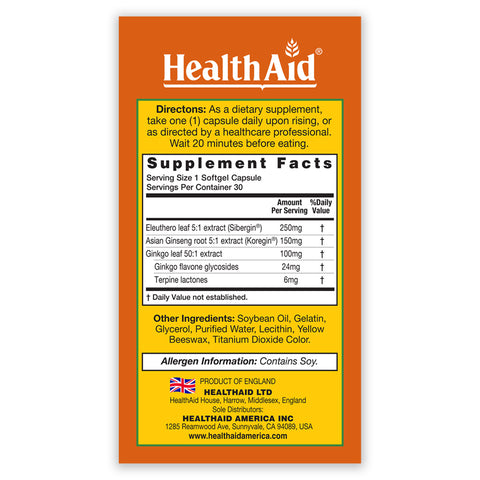 ---
---
HealthAid® GinkgoVital 3 is specially formulated using Ginkgo Biloba Extract, combined with highly concentrated Siberian and Korean Ginseng Extracts.  
Ginkgo Biloba leaf extract is commonly used as a natural aid to support brain health, memory, vascular health, and circulation. Various antioxidants such as flavone glycosides found in Ginkgo Biloba help protect against free radicals by providing Antioxidant Bioflavonoids, Quercetin and Rutin. Ginkgo Biloba helps improve blood flow by dilating the peripheral blood vessels, including the tiny capillaries. 
Ginseng is the most famous herb of the Far East, used by people worldwide for sustaining health. Korean and Siberian Ginsengs are one of the most popular health-promoting herbs. They have been used for thousands of years to sustain mental and physical strength, vigour, stamina and vitality. They contain powerful adaptogens which have been known to stabilise physiological processes in the body and promote homeostasis. They are commonly used as a general tonic that helps support the immune system, improve concentration and mental clarity, protect the body against the adverse effects of stress, and enhance athletic performance. 
Benefits
Recommended Daily Intake
As a dietary supplement, take one (1) capsule daily upon rising, or as directed by a healthcare professional. Wait 20 minutes before eating.
Free From
Non-GMO, Made without use of Yeast, Gluten, Starch, Wheat, Dairy, Corn, Nuts and Sugar.
Nutritional Information
GinkgoVital +3 Capsules contains (average):
Nutrient
Value
%NRV
Eleuthero leaf 5:1 extract (Sibergin®)
250mg
*
Asian Ginseng root 5:1 extract (Koregin®)
150mg
*
Ginkgo leaf 50:1 Extract
100mg
*
Ginkgo flavone glycosides
24mg
*
Terpine lactones
6mg
*
NRV: EC Nutrient Reference Value
*: NRV Not Yet Established
Ingredients
Bulking Agent (soybean oil, yellow beeswax), Standardised Ginkgo Biloba Extract, Emulsifier (unbleached lecithin), Siberian Ginseng Extract (5:1), Korean Ginseng extract (5:1), Capsule Shell (gelatine, glycerol, titanium dioxide).