Flaxseed Oil 1000mg Capsules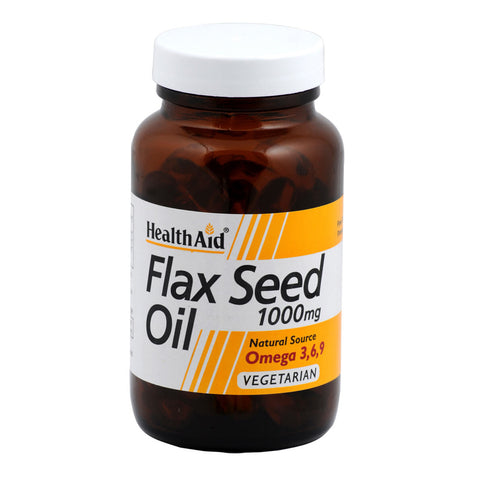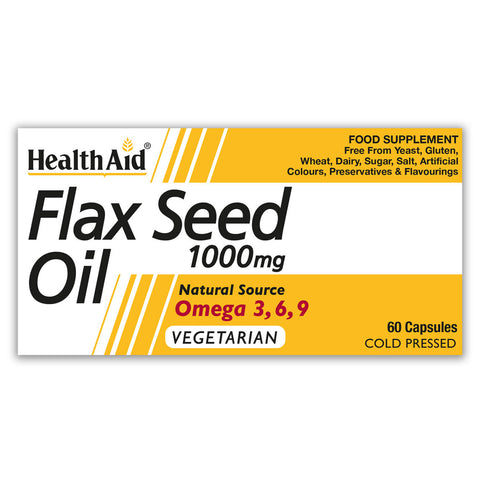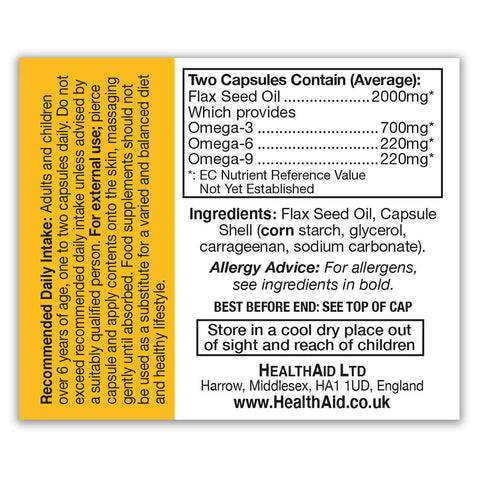 ---
---
Flaxseed Oil, alternatively referred to as Linseed Oil, is derived from the flax plant's seeds through a process of extraction. HealthAid® Flaxseed Oil contains high-quality essential fatty acids. The body cannot produce Omega-3 and 6, Omega 9 is produced by the body however, due to poor diet we cannot always produce enough. Therefore, Omega-3, 6 and 9 need to be provided by a healthy diet and supplementation. Omega-3 provides Alpha-Linoleic Acid (ALA), which contributes to normal blood cholesterol levels. Omega 6 is a rich source of GLA (Gamma-Linolenic Acid), which may benefit general body metabolism. Omega 9 is a rich source of Oleic Acid, which is helpful in supporting cardiovascular health. Flaxseed oil is particularly beneficial for brain function and vision. 
Benefits
Recommended Daily Intake
Adults and children over 6 years of age, one to two capsules daily. Do not exceed recommended daily intake unless advised by suitably qualified person. For external use; pierce capsule and apply contents onto the skin, massaging gently until absorbed.
Free From
Free from Yeast, Gluten, Wheat, Dairy, Sugar, Salt, Artificial Colours, Preservatives and Flavourings.
Nutritional Information
Flaxseed Oil 1000mg Capsules contains (average):
Ingredients
Amount
%NRV
Flax Seed Oil
2000mg
*
Which provides Omega-3
700mg
*
Which provides Omega-6
220mg
*
Which provides Omega-9
220mg
*
NRV: EC Nutrient Reference Value
*: EC Nutrient Reference Value Not Yet Established
Ingredients
Flax Seed Oil, Capsule Shell (corn starch, glycerol, carrageenan, sodium carbonate).