EyeVit® - Prolonged Release Tablets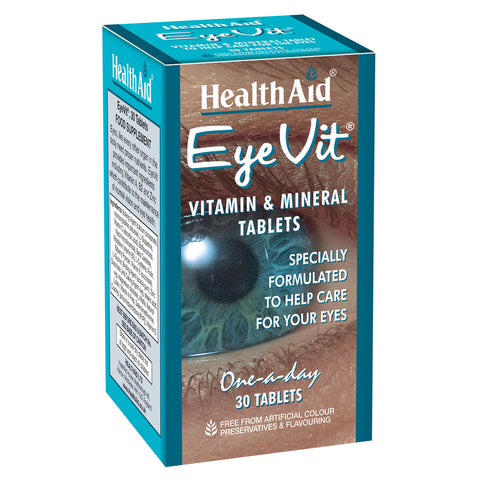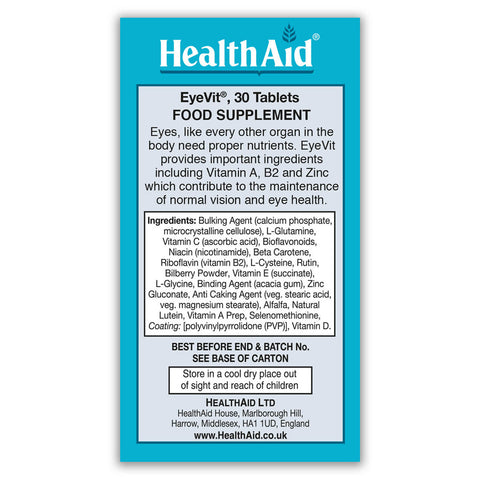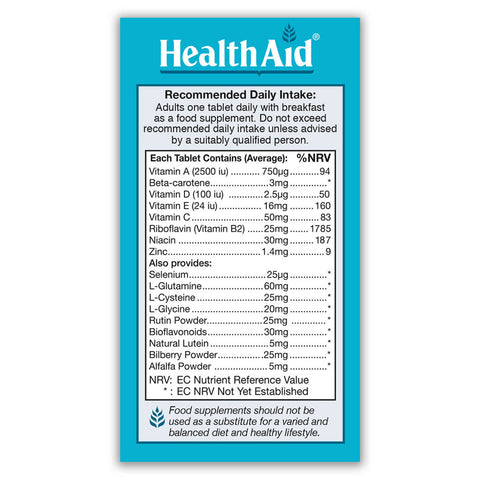 ---
---
It is well known that the eyes, like every other organ in the body, need proper nourishment. As we age, our eyes become more vulnerable to various age-related changes. EyeVit Tablets are formulated to provide a concentrated dose of essential nutrients, to support your eye health and maintain visual clarity. 
Vitamin A and Beta-carotene are crucial for vision protection and preventing infections, alleviating dry eyes and addressing night blindness. Vitamin E acts as a potent antioxidant, shielding cells from oxidative damage caused by free radicals. Zinc supports Vitamin A absorption and combats free radicals to safeguard eye health. Bioflavonoids, found in Vitamin C-rich foods, possess antioxidant properties that enhance blood vessel protection, potentially reducing dark circles and promoting circulation. Lutein shields the retina from blue light-induced oxidative harm. Inadequate Vitamin D intake is linked to increased blindness and age-related eye issues. Bilberry, which contains anthocyanins, is known to support capillary strength, nutrient transportation and combat eye strain. 
Benefits
Recommended Daily Intake
Adults one tablet daily with breakfast as a food supplement. Do not exceed recommended daily intake unless advised by a suitably qualified person.
Free From
Free From Artificial Colours, Preservatives and Flavourings.
Nutritional Information
EyeVit® - Prolonged Release Tablets contains (average):
Nutrient
Value
%NRV
Vitamin A (2500iu)
750µg
94
Beta-carotene
3mg
*
Vitamin D (100iu)
2.5µg
50
Vitamin E (24iu)
16mg
160
Vitamin C
50mg
83
Riboflavin (Vit B2)
25mg
1563
Niacin
30mg
167
Zinc
1.4mg
9
Also provides:
Selenium
25µg
*
L-Glutamine
60mg
*
L-Cysteine
25mg
*
L-Glycine
20mg
*
Rutin powder
25mg
*
Bioflavonoids
30mg
*
Lutein (natural)
5mg
*
Bilberry powder
25mg
*
Alfalfa powder
5mg
*
NRV: EC Nutrient Reference Value
*
Ingredients
Bulking Agent (calcium phosphate, microcrystalline cellulose), L-Glutamine, Vitamin C (ascorbic acid), Bioflavonoids, Niacin (nicotinamide), Beta Carotene, Riboflavin (vitamin B2), L-Cysteine, Rutin, Bilberry Powder, Vitamin E (succinate), L-Glycine, Binding Agent (acacia gum), Zinc Gluconate, Anti Caking Agent (veg. stearic acid, veg. magnesium stearate), Alfalfa, Natural Lutein, Vitamin A Prep, Selenomethionine, Coating: [polyvinylpyrrolidone (PVP)], Vitamin D.