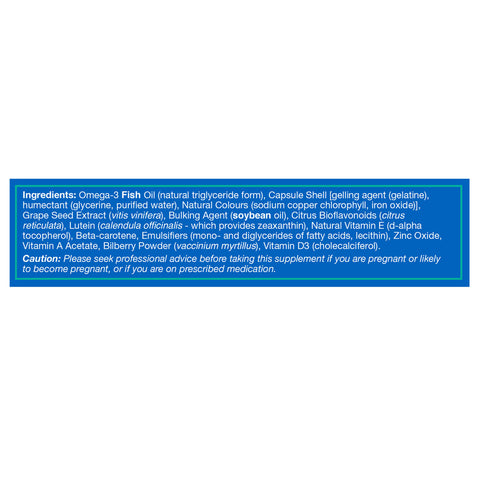 ---
---
It is well known that the eyes, like every other organ in the body, need proper nourishment. As we age, our eyes become more vulnerable to various age-related changes. EyeVit Tablets are formulated to provide a concentrated dose of essential nutrients, to support your eye health and maintain visual clarity. 
Vitamin A and Beta-carotene are crucial for vision protection and preventing infections, alleviating dry eyes and addressing night blindness. Vitamin E acts as a potent antioxidant, shielding cells from oxidative damage caused by free radicals. Zinc supports Vitamin A absorption and combats free radicals to safeguard eye health. Bioflavonoids, found in Vitamin C-rich foods, possess antioxidant properties that enhance blood vessel protection, potentially reducing dark circles and promoting circulation. Lutein and Zeaxanthin shield the retina from blue light-induced oxidative harm. Omega-3 fatty acids may minimise macular degeneration, dry eyes and high eye pressure. Inadequate Vitamin D intake is linked to increased blindness and age-related eye issues. Grape Seed extract, rich in antioxidants, is linked to improved eye health. Bilberry, which contains anthocyanins, is known to support capillary strength, nutrient transportation and combat eye strain. 
Benefits
Recommended Daily Intake
Adults and children over 12 years of age, one capsule daily. Adults can increase up to two capsules daily if required. Do not exceed recommended daily intake unless advised by a suitably qualified person.
Free From
Free From Yeast, Gluten, Wheat, Dairy, Artificial Preservatives and Flavourings, No Added Sugar or Salt.
Nutritional Information
EyeVit Plus Capsules contains (average):
| Nutrient | Value | %NRV |
| --- | --- | --- |
| Beta-carotene | 6mg | * |
| Vitamin A (2664 iu) | 800μg | 100 |
| Vitamin D3 (400 iu) | 10μg | 200 |
| Vitamin E (22 iu) | 15mg | 125 |
| Zinc | 10mg | 100 |
| Citrus Bioflavonoids | 60mg | * |
| Bilberry Powder | 100mg | * |
| Grape Seed Extract (standardised for min 95% oligomeric proanthocyanidins) | 100mg | * |
| Lutein | 10mg | * |
| Zeaxanthan | 500μg | * |
| Which provides: | | |
| Omega-3 (Natural TG) | 400mg | * |
| EPA (Eicosapentaeonic acid) | 80mg | * |
| DHA (Docosahexaeonic acid) | 160mg | * |
Ingredients
Ingredients: Omega-3 Fish Oil (natural triglyceride form), Capsule Shell [gelling agent (gelatine), humectant (glycerine, purified water), Natural Colours (sodium copper chlorophyll, iron oxide)], Grape Seed Extract (vitis vinifera), Bulking Agent (soybean oil), Citrus Bioflavonoids (citrus reticulata), Lutein (calendula officinalis - which provides zeaxanthin), Natural Vitamin E (d-alpha tocopherol), Beta-carotene, Emulsifiers (mono- and diglycerides of fatty acids, lecithin), Zinc Oxide, Vitamin A Acetate, Bilberry Powder (vaccinium myrtillus), Vitamin D3 (cholecalciferol). Caution: Please seek professional advice before taking this supplement if you are pregnant or likely to become pregnant, or if you are on prescribed medication.