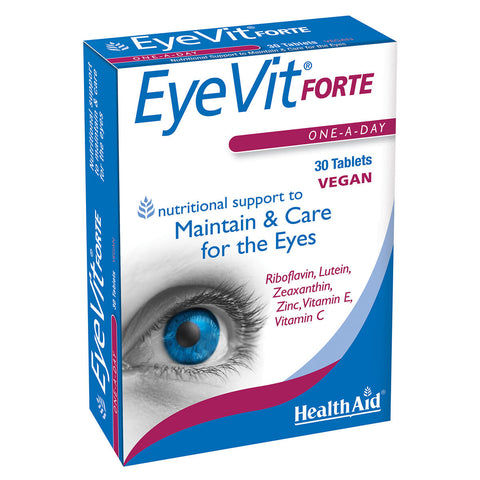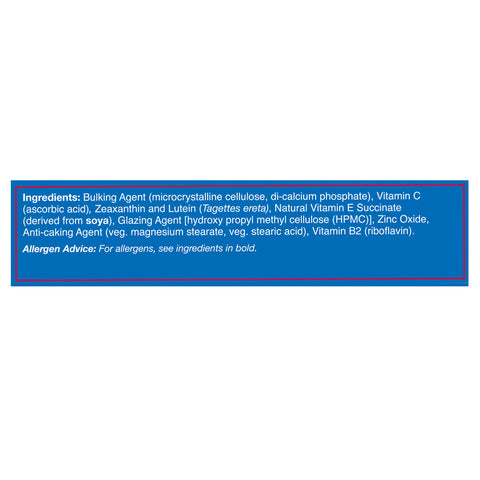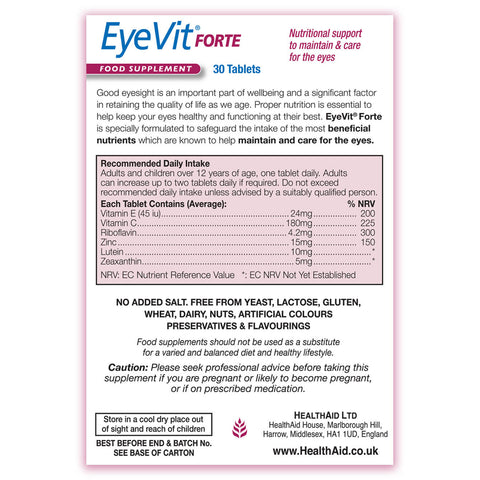 ---
---
It is well known that the eyes, like every other organ in the body, need proper nourishment. As we age, our eyes become more vulnerable to various age-related changes. EyeVit Tablets are formulated to provide a concentrated dose of essential nutrients, to support your eye health and maintain visual clarity. 
Vitamin E and Vitamin C act as potent antioxidants, shielding cells from oxidative damage caused by free radicals. Zinc supports Vitamin A absorption and combats free radicals to safeguard eye health. Lutein and Zeaxanthin shield the retina from blue light-induced oxidative harm. Riboflavin may help to prevent structural changes within the cornea, A deficiency in this Vitamin can cause the eyes to become bloodshot, itchy, watery and sensitive to bright light. 
Benefits
Recommended Daily Intake
Adults and children over 12 years of age, one tablet daily. Adults can increase up to two tablets daily if required. Do not exceed recommended daily intake unless advised by a suitably qualified person.
Free From
Free From Yeast, Lactose, Gluten, Wheat, Dairy, Nuts, Artificial Colours, Preservatives and Flavourings, No Added Salt.
Nutritional Information
EyeVit® Forte Tablets contains (average):
Nutrient
Value
%NRV
Vitamin E (45 iu)
30mg
250
Vitamin C
180mg
225
Riboflavin
4.2mg
300
Zinc
15mg
150
Lutein
10mg
*
Zeaxanthin
5mg
*
*: EC Nutrient Reference Value Not Yet Established
Ingredients
Bulking Agent (microcrystalline cellulose, di-calcium phosphate), Vitamin C (ascorbic acid), Zeaxanthin and Lutein (Tagettes ereta), Natural Vitamin E Succinate, Glazing Agent [hydroxyl propyl methyl cellulose (HPMC)], Zinc Oxide, Anti-caking Agent (veg. magnesium stearate, veg. stearic acid), Vitamin B2 (riboflavin).