Esterified Vitamin C 500mg Tablets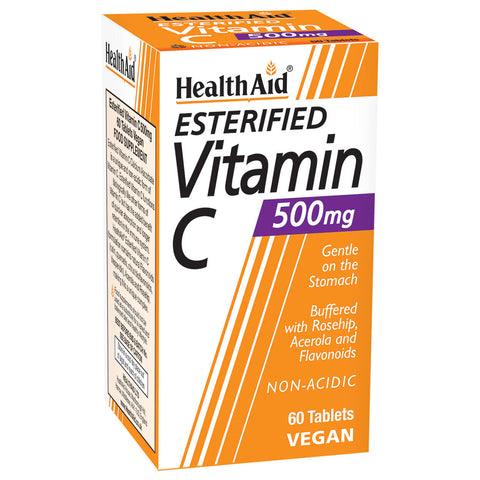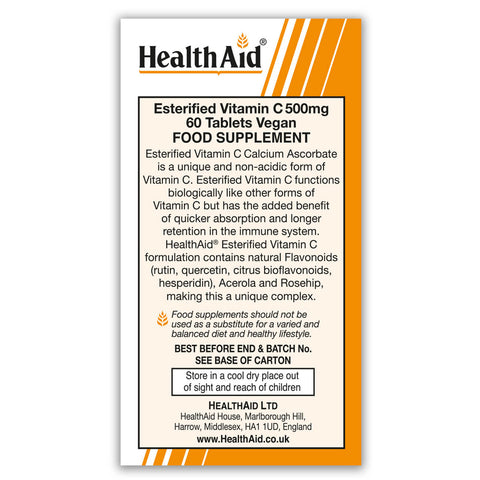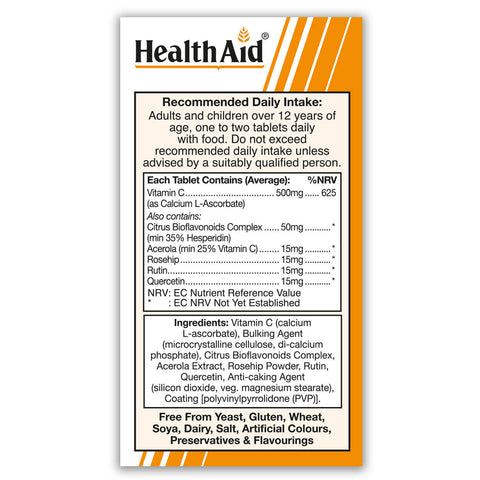 ---
---
Contains Calcium Ascorbate with Bioflavonoids, Acerola and Rosehip
Everyone knows the importance of Vitamin C for the immune system. Did you know that Vitamin C also assists with healthy teeth, gums, skin, joints and bones? Winter, stress physically and mentally, and reoccurring health concerns can all affect your immune health.
If you are feeling the effects of the cold winter months, or excessive stress on your immune health, then supplement your healthy diet and exercise with HealthAid® Vitamin C Tablets. Esterified Vitamin C contains Calcium Ascorbate which is a unique non-acidic form of Vitamin C. It functions biologically like other forms of Vitamin C but has the added benefit of quicker absorption and longer retention in the immune system.
HealthAid® Esterified Vitamin C formulation also contains natural immune-stimulating Flavonoids (Rutin, Quercetin, Citrus Bioflavonoids & Hesperidin), Acerola and Rosehip (rich sources of natural Vitamin C and bioflavonoids), making this a unique complex. Alongside a healthy immune system and outer appearance, Vitamin C also contributes to the protection of cells from oxidative damage.?Vitamin C from HealthAid® is specially formulated with Rosehip and Acerola to give a buffered tablet that does not irritate the stomach and is rapidly absorbed.
Benefits
Recommended Daily Intake
Adults: one to two tablets daily with breakfast. Do not exceed recommended daily intake unless advised by a suitably qualified person. Food supplements should not be used as a substitute for a varied and balanced diet and healthy lifestyle. All and any changes to your diet and supplement regime should first be cleared with your personal medical professional. This description should not be taken as medical advice, a doctor should be consulted for any medical issues. Allergy information: For allergens, see ingredients in bold.
Free From
Free from added Salt Free from Gluten, Dairy, Yeast, Gelatin, Lactose, Starch, Soya, Nut GMO Compliant Free from Artificial Colours, Flavourings and Preservatives Suitable for Vegetarians and Vegans
Nutritional Information
Esterified Vitamin C 500mg Tablets contains (average):
Nutrient
Value
%NRV
Vitamin C (as Calcium Ascorbate)
500mg
625
Citrus Bioflavonoids Complex (min 35% Hesperidin)
50mg
*
Acerola (min 25% Vitamin C)
15mg
*
Rosehip
15mg
*
Rutin
15mg
*
Quercetin
15mg
*
*: EC Nutrient Reference Value Not Yet Established
Ingredients
Vitamin C (calcium L-ascorbate), Bulking Agent (microcrystalline cellulose, di-calcium phosphate), Citrus Bioflavonoids Complex, Acerola Extract, Rosehip Powder, Rutin, Quercetin, Anti-caking Agent (silicon dioxide, veg. magnesium stearate), Coating [polyvinylpyrrolidone (PVP)].