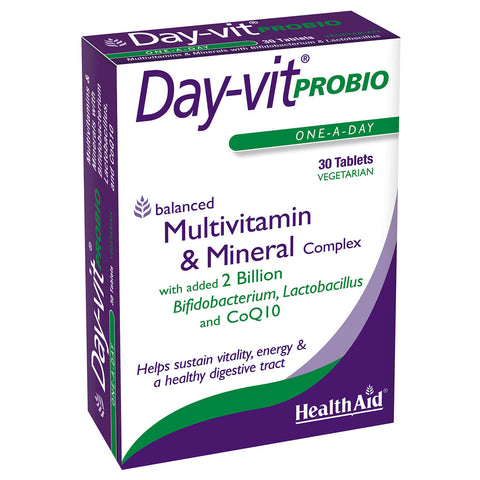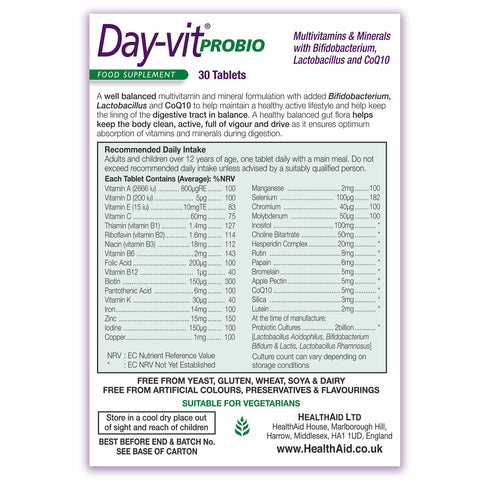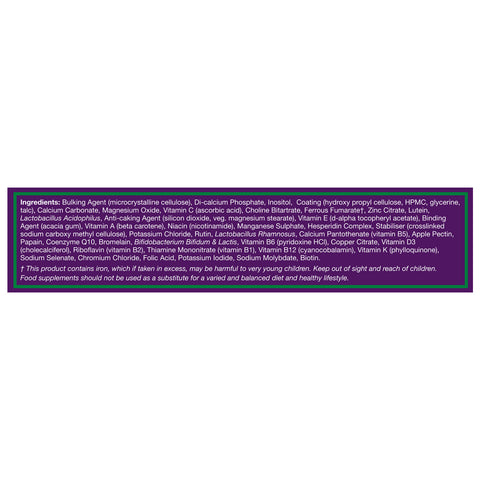 ---
---
Day-vit Probio Tablets offer a well balanced multivitamin and mineral formulation with added probiotics to help maintain a healthy active lifestyle and help keep the lining of the digestive tract in balance. A healthy balanced gut flora helps keep the body clean, active, and full of vigour and drive as it ensures optimum absorption of vitamins and minerals during digestion.
Benefits
Recommended Daily Intake
Day-vit Probio tablets are an all round supplement ideally used during periods of poor dietary habits and extreme stress. It is a balanced multivitamin that enhances physical and mental energy and supports the digestive system. The added benefit is provided by the digestive enzymes and the high potency probiotics present in this unique formulation. Adults and children over 12 years of age, one tablet daily with a main meal. Do not exceed recommended daily intake unless advised by a suitably qualified person. ** Food Supplements should not be used as a substitute for a varied and balanced diet and healthy lifestyle.
Free From
** Free From Yeast, Gluten, Wheat, Soya, Dairy, Artificial Colours, Flavourings and Preservatives.
Nutritional Information
Day-vit® PROBIO Tablets contains (average):
Nutrient
Value
%NRV
Vitamin A (2666iu)
800µg
100
Vitamin D (200iu)
5µg
100
Vitamin E (15iu)
10mg
83
Vitamin C
60mg
75
Thiamin (Vitamin B1)
1.4mg
127
Riboflavin (Vitamin B2)
1.6mg
114
Niacin (as nicotinamide)
18mg
112
Vitamin B6
2mg
143
Folic acid
200µg
100
Vitamin B12
1µg
40
Biotin
150µg
300
Pantothenic acid
6mg
100
Vitamin K
30µg
40
Iron
14mg
100
Iodine
150µg
100
Zinc
15mg
150
Probiotic cultures [Acidophilus, Bifidobacterium Bifidus, Lactobacillus Rhamonosus]
2 billion**
*
Inositol
100mg
*
Rutin
8mg
*
Lutein
2mg
*
Hesperidin Complex
20mg
*
Papain
6mg
*
Bromelain
5mg
*
Apple Pectin
5mg
*
Silica
3mg
*
CoQ10
5mg
*
Manganese
2mg
100
Copper
1mg
100
Selenium
100µg
182
Chromium
40µg
100
Molybdenum
50µg
100
Choline Bitartrate
50mg
*
*
EC Nutrient Reference Value Not Yet Established
Ingredients
Bulking Agent (microcrystalline cellulose), Di-calcium Phosphate, Inositol, Coating (hydroxy propyl cellulose, HPMC, glycerine, talc), Calcium Carbonate, Magnesium Oxide, Vitamin C (ascorbic acid), Choline Bitartrate, Ferrous Fumarate†, Zinc Citrate, Lutein, Lactobacillus Acidophilus, Anti-caking Agent (silicon dioxide, veg. magnesium stearate), Vitamin E (d-alpha tocopheryl acetate), Binding Agent (acacia gum), Vitamin A (beta carotene), Niacin (nicotinamide), Manganese Sulphate, Hesperidin Complex, Stabiliser (crosslinked sodium carboxy methyl cellulose), Potassium Chloride, Rutin, Lactobacillus Rhamnosus, Calcium Pantothenate (vitamin B5), Apple Pectin, Papain, Coenzyme Q10, Bromelain, Bifidobacterium Bifidum & Lactis, Vitamin B6 (pyridoxine HCl), Copper Citrate, Vitamin D3 (cholecalciferol), Riboflavin (vitamin B2), Thiamine Mononitrate (vitamin B1), Vitamin B12 (cyanocobalamin), Vitamin K (phylloquinone), Sodium Selenate, Chromium Chloride, Folic Acid, Potassium Iodide, Sodium Molybdate, Biotin. † This product contains iron, which if taken in excess, may be harmful to very young children. ** : At the time of manufacture