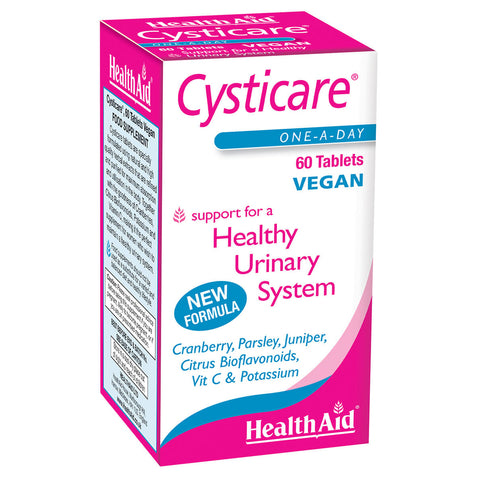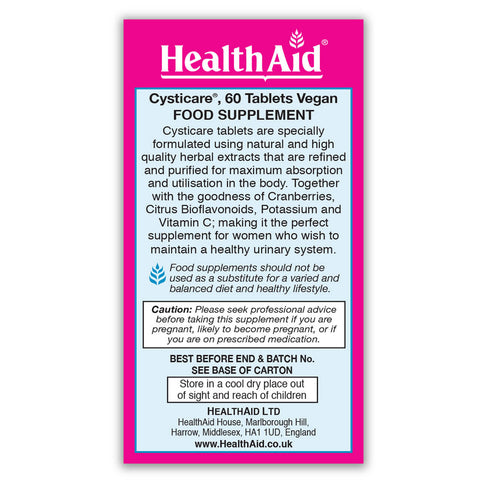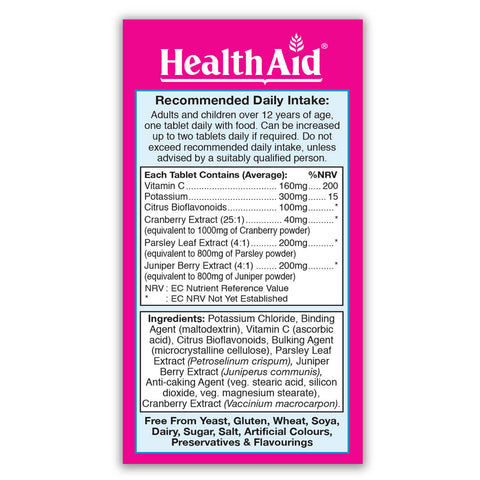 ---
---
Cystitis is a urinary tract infection (UTI) that affects the bladder. It typically causes a frequent urge to pass urine which is often accompanied by a burning sensation. It is common, particularly in women. Factors that may contribute to this condition include compromised immunity, bacterial imbalance in the urinary tract, bladder, vagina or colon, deficiency of Vitamin D, Magnesium, Zinc, Selenium, Potassium or Vitamin B6, dehydration, hormonal imbalance or a diet high in sugar.
CystiCare® Tablets are an original combination of Potassium, Vitamin C and B6, together with the goodness of Cranberries, Citrus Bioflavonoids and high-quality Herbs (Juniper and Parsley Extracts).
Benefits
Recommended Daily Intake
Adults and children over 12 years of age, one tablet daily with food. Can be increased to two tablets daily if required. Do not exceed recommended daily intake, unless advised by a suitably qualified person. Caution: Seek professional advice before taking this supplement if you are on medication, pregnant or breastfeeding. Food supplements should not be used as a substitute for a varied and balanced diet and healthy lifestyle. All and any changes to your diet and supplement regime should first be cleared with your personal medical professional. This description should not be taken as medical advice; a doctor should be consulted for any medical issues. Allergy information: For allergens, see ingredients in bold.
Free From
Free from added Sugar and Salt Free from Corn, Gluten, Dairy, Gelatine, Lactose, Yeast, Wheat, Starch, Soya, Nut Free from Artificial Colours, Preservatives, and Flavourings Suitable for Vegetarians and Vegans
Nutritional Information
CystiCare®Tablets contains (average):
Ingredient
Value
%NRV
Vitamin C
160mg
200
Potassium
300mg
15
Citrus Bioflavonoids
100mg
*
Cranberry Extract (25:1) (equivalent to 1000mg of Cranberry powder)
40mg
*
Parsley Leaf Extract (4:1) (equivalent to 800mg of Parsley Leaf powder)
200mg
*
Juniper berry Extract (4:1) (equivalent to 800mg of juniper berry powder)
200mg
*
*: EC Nutrient Reference Value Not Yet Established
Ingredients
Potassium Chloride, Binding Agent (maltodextrin), Vitamin C (ascorbic acid), Citrus Bioflavonoids, Bulking Agent (microcrystalline cellulose), Parsley Leaf Extract (petroselinum crispum), Juniper Berry Extract (juniperus communis), Anti-caking Agent (veg. stearic acid, silicon dioxide, veg. magnesium stearate), Cranberry Extract (vaccinium macrocarpon).