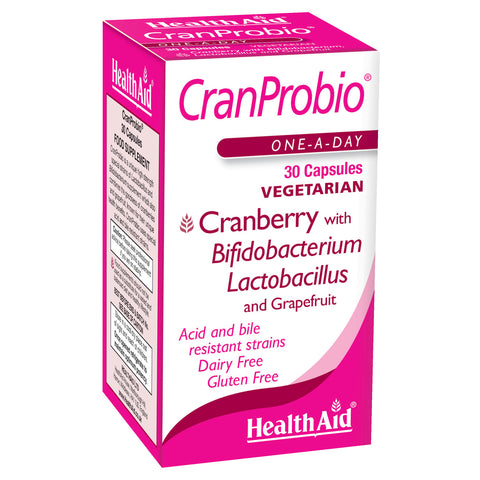 ---
---
Candida albicans is normally a harmless, single-celled, sugar-fermenting yeast. However, when the body's natural microflora becomes disrupted (due to excessive sugar consumption, use of antibiotics and other factors), an uncontrolled overgrowth of Candida occurs leading to candidiasis with thrush, vaginal, and urinary infections.
CranProbio® is a unique nutritional supplement which includes carefully chosen potent strains of live Friendly Bacteria combined with the goodness of Cranberries and Grapefruit, traditionally known for their antimicrobial and antifungal properties. High potency Friendly Bacteria included in this formulation benefit digestion, immune function, a clean urinary tract, and balanced intestinal and vaginal flora.
HeathAid® CranProbio® uses special acid and bile resistant strains, which prevent the stomach juices from destroying the ingredients before they reach the intestines, ensuring their purity and potency.
Benefits
Recommended Daily Intake
Adults and children over 12 years of age, one capsule daily, as required, preferably on an empty stomach. Do not exceed recommended daily intake unless advised by a suitably qualified person. Caution: Please seek professional advice before taking this supplement if you are on statins. Food supplements should not be used as a substitute for a varied and balanced diet and healthy lifestyle. All and any changes to your diet and supplement regime should first be cleared with your personal medical professional. This description should not be taken as medical advice; a doctor should be consulted for any medical issues. Allergy information: For allergens, see ingredients in bold.
Free From
Free from added Salt Free from Corn, Gelatine, Wheat, Nut Free from Artificial Colours, Preservatives, and Flavourings Suitable for Vegetarians
Nutritional Information
Cranprobio® Capsules contains (average):
Ingredient
Value
%NRV
Probiotic Blend (Lactobacillus acidophilus, Bifidobacterium lactis, Bifidobacterium bifidum)
5 Billion*Δ
Cranberry Powder
500mg*
Grapefruit Powder
250mg*
*: EC Nutrient Reference Value Not Yet Established
Δ: The stated bacterial count is the guaranteed amount up until the end of shelf life; provided recommended storage conditions are strictly adhered to. Due to the unstable nature of the organisms, the live bacterial count may vary or decline over time depending on temperature fluctuations and storage conditions.
Ingredients
Cranberry Fruit Powder (vaccinium macrocarpon), Grapefruit Oil Powder (citrus grandis), Capsule Shell [hydroxy propyl methyl cellulose (HPMC), water], Probiotic Blend, Anti-caking Agent (silica, veg. magnesium stearate).