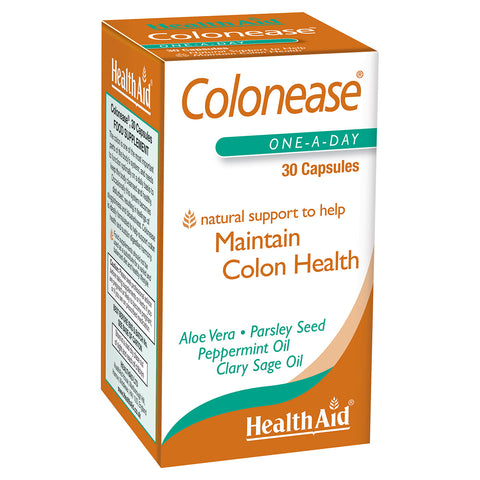 ---
---
Colonease Capsules are for the colon which is one of the most important parts of the body's systems. It needs to function properly on a daily basis so that you feel clean and healthy. Occasionally this system declines and the whole body becomes disturbed. This may make you feel sluggish and bloated. In time the stomach usually harmonises itself, but sometimes as we get older the ability to recover quickly starts to diminish and help is required to maintain the harmony of the colon system. Colonease is ideally formulated to help support colon health and sustain harmony. Combats sluggish, bloated symptoms to make you feel cleaner and healthier.
Benefits
Recommended Daily Intake
Adults and children over 12 years of age, one capsule daily after a main meal. Can be increased up to two capsules daily if required. Do not exceed recommended daily intake unless advised by a suitably qualified person. Caution: Please seek professional advice before taking supplements or herbs if you are pregnant or likely to become pregnant, or if you are on prescribed medication.
Free From
** Free From Yeast, Gluten, Wheat, Dairy, Sugar, Salt, Artificial Colours, Preservatives & Flavourings
Nutritional Information
Colonease Capsules contains (average):
Ingredient
Value
%NRV
Aloe vera extract (200:1)
25mg*
Peppermint oil (Mentha piperita)
5mg*
Parsley seed oil
5mg*
Clary sage oil
1mg*
*: EC Nutrient Reference Value Not Yet Established
Ingredients
Bulking Agent [soybean oil, yellow beeswax, silica (aerosil 300)], Capsule Shell [gelling agent (gelatine), humectant (glycerol, purified water), natural colours (titanium dioxide, black iron oxide, sodium copper chlorophyllin)], Aloe Vera Gel Extract, Emulsifier [soya lecithin (unbleached)], Peppermint Oil, Parsley Seed Oil, Clary Sage Oil.