ColiProbio (30 Billion) Capsules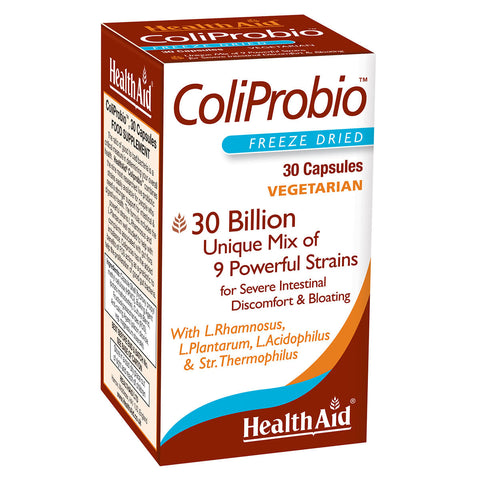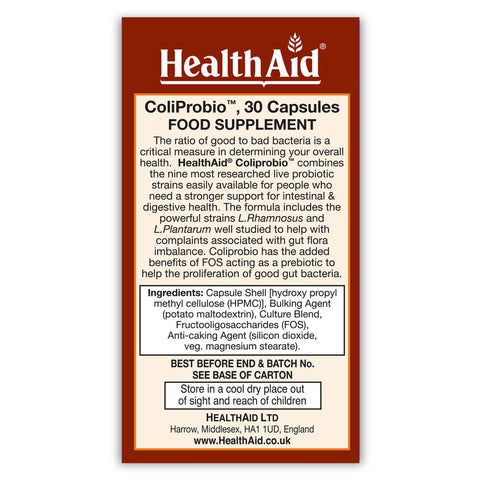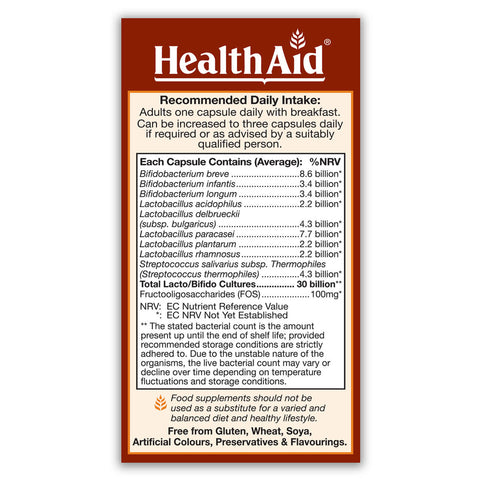 ---
---
A healthy digestive system contains a healthy balance of 'friendly' and 'unfriendly' bacteria. They are constantly in competition. Certain foods or antibiotics can increase 'unfriendly' bacteria or decrease the concentration of both 'friendly' and 'unfriendly' bacteria, resulting in digestive tract problems and compromised immunity. 
HealthAid® ColiProbio helps to supplement your diet by replenishing the 'friendly' bacteria, support the immune system and assist in the absorption of nutrients within the gut by providing 30 billion special strains of Lactobacillus and Bifidobacterium (live microorganisms).  Research shows these probiotic strains may help reduce pathogenic bacteria and yeasts in your gut and help balance your intestinal PH. Fructo-Oligosaccharides (FOS), a prebiotic, has been added to help support the growth of 'friendly' bacteria in the intestinal tract. 
Benefits
Recommended Daily Intake
Adults one capsule daily with breakfast. Can be increased to three capsules daily if required or as advised by a suitably qualified person.
Free From
Free from Gluten, Wheat, Soya, Artificial Colours, Preservatives and Flavourings.
Nutritional Information
ColiProbio (30 Billion) Capsules contains (average):
Nutrient
Value
%NRV
Bifidobacterium breve
8.6 billion*
Bifidobacterium infantis
3.4 billion*
Bifidobacterium longum
3.4 billion*
Lactobacillus acidophilus
2.2 billion*
Lactobacillus bulgaricus
4.3 billion*
Lactobacillus paracasei
7.7 billion*
Lactobacillus plantarum
2.2 billion*
Lactobacillus rhamnosus
2.2 billion*
Streptococcus thermophilus
4.3 billion*
Total cultures
30 billion*
Fructooligosaccharide (FOS)
100mg
* The stated bacterial count combination was incorporated at the time of manufacture. Due to the unstable nature of organisms, the live count may vary and may decline over time depending on temperature fluctuations and storage conditions.
NRV not yet established.