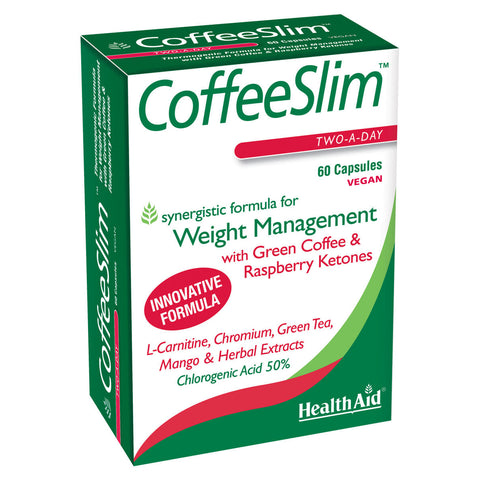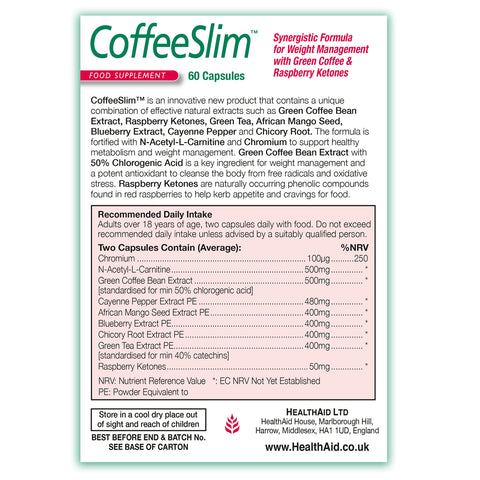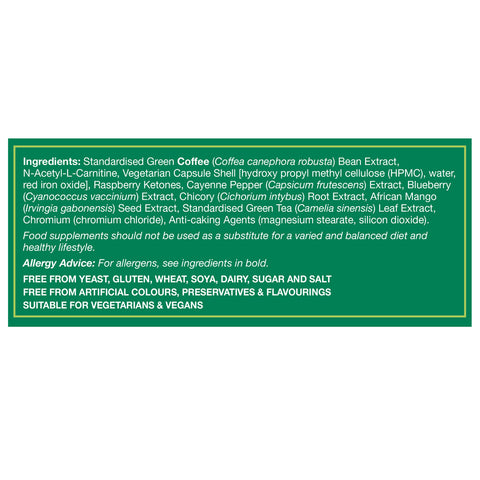 ---
---
CoffeeSlim™ is a weight management supplement with essential ingredients, such as Green Coffee Bean Extract, which is known to regulate fat absorption and maintain a healthy metabolism. 
Chlorogenic Acid, found in Green Coffee is believed to slow down the release of glucose into the bloodstream, particularly after meals, thereby aiding weight loss. It assists in weight loss by increasing body heat, which promotes thermogenesis. This means excess calories and fat are burnt off. It is also believed that Chlorogenic Acid may reduce the generation of new fat cells due to its superior antioxidant effects. Raspberry Ketones encourage metabolism and the use of stubborn fat stores. Green Tea promotes fat oxidation and glucose metabolism. African Mango Seed contains Leptin, which is a protein hormone that regulates appetite and influences metabolism. CoffeeSlim is also enriched with Blueberry Extract, Cayenne Pepper and Chicory Root. 
Recommended Daily Intake
Adults over 18 years of age, two capsules daily with food. Do not exceed recommended daily intake unless advised by a suitably qualified person.
Free From
Free From Yeast, Gluten, Wheat, Soya, Dairy, Sugar, Salt, Artificial Colours, Preservatives and Flavourings.
Nutritional Information
CoffeeSlim Vegicaps contains (average):
Nutrient
Value
%NRV
Chromium
100μg
250
N-Acetyl L-Carnitine
500mg
*
Green Coffee Bean Extract [standardised for min 50% Chlorogenic Acid]
500mg
*
Cayenne Pepper Extract PE
480mg
*
African Mango Seed Extract PE
400mg
*
Blueberry Extract PE
400mg
*
Chicory Root Extract PE
400mg
*
Green Tea Extract PE [standardised for min40% catechins]
400mg
*
Raspberry Ketones
50mg
*
*: EC Nutrient Reference Value Not Yet Established PE: Powder Equivalent
Ingredients
Standardised Green Coffee (Coffea canephora robusta) Bean Extract, N-Acetyl-L-Carnitine, Vegetarian Capsule Shell [hydroxy propyl methyl cellulose (HPMC), water, red iron oxide], Raspberry Ketones, Cayenne Pepper (Capsicum frutescens) Extract, Blueberry (Cyanococcus vaccinium) Extract, Chicory (Cichorium intybus) Root Extract, African Mango (Irvingia gabonensis) Seed Extract, Standardised Green Tea (Camelia sinensis) Leaf Extract, Chromium (chromium chloride), Anti-caking Agents (magnesium stearate, silicon dioxide).