Cod Liver Oil 550mg Capsules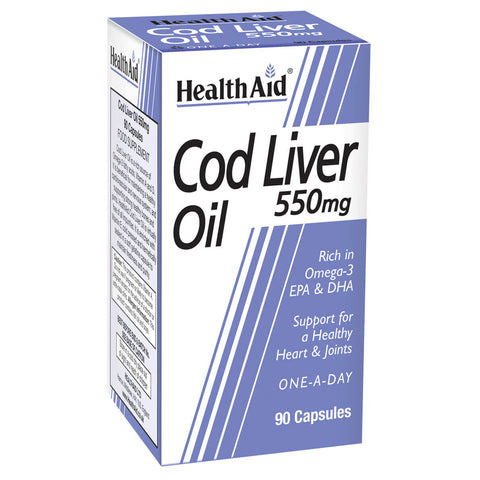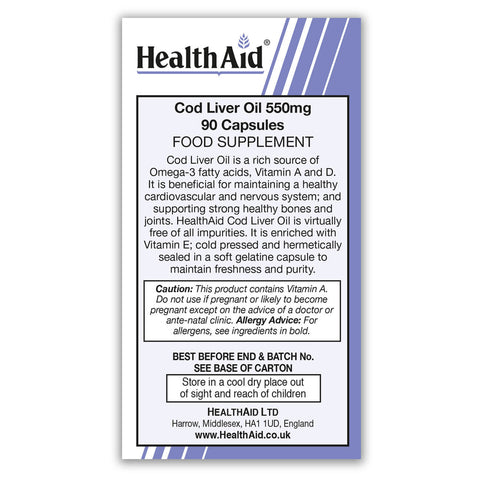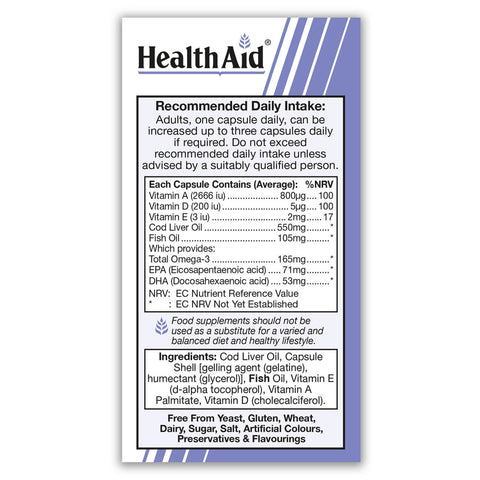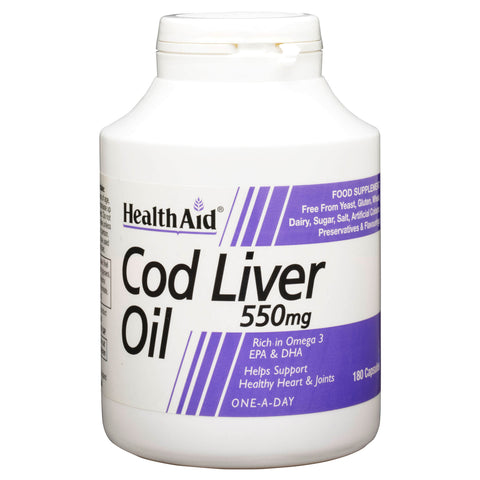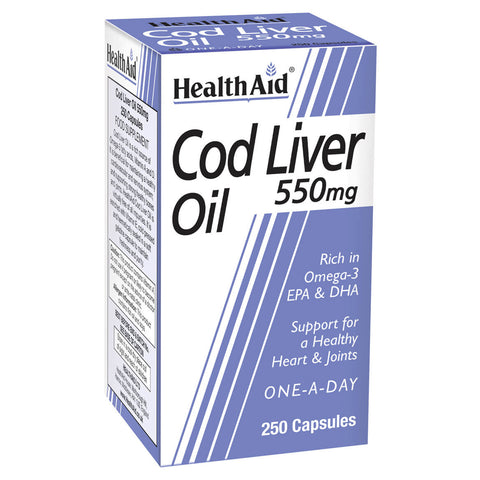 ---
---
Cod Liver Oil Capsules provide a great source of Omega-3 essential fatty acids EPA and DHA. Eicosapentaenoic acid (EPA) and docosahexaenoic acid (DHA) contribute to the normal function of the heart and brain, maintenance of normal blood pressure and triglyceride levels and normal vision. Cod Liver Oil contains additional Vitamin A, D and E to support the immune system, the maintenance of normal mucous membranes, bones and teeth, iron metabolism, normal muscle function and skin to protect the cells from oxidative stress. Cod Liver is a high-quality form of fish oil, free from all impurities and toxins, ensuring improved digestion, absorption and efficacy.
Benefits
Recommended Daily Intake
Adults, one capsule daily, can be increased up to three capsules daily if required. Do not exceed recommended daily intake unless advised by a suitably qualified person.
Free From
Free from Yeast, Gluten, Wheat, Dairy, Sugar, Salt, Artificial Colours, Preservatives and Flavourings.
Nutritional Information
Cod Liver Oil 550mg Capsules contains (average):
| Ingredients | Amount | % NRV |
| --- | --- | --- |
| Vitamin A (2666 iu) | 800μg | 100 |
| Vitamin D (200 iu) | 5μg | 100 |
| Vitamin E (3 iu) | 2mg | 17 |
| Cod Liver Oil | 550mg | * |
| Fish Oil | 105mg | * |
| Which provides: Total Omega-3 | 165mg | * |
| Which provides: EPA (Eicosapentaenoic acid) | 71mg | * |
| Which provides: DHA (Docosahexaenoic acid) | 53mg | * |
NRV: EC Nutrient Reference Value *: EC NRV Not Yet Established
Ingredients
Cod Liver Oil, Capsule Shell [gelling agent (gelatine), humectant (glycerol)], Fish Oil, Vitamin E (d-alpha tocopherol), Vitamin A Palmitate, Vitamin D (cholecalciferol).