Citrus Bioflavonoid 1000mg Tablets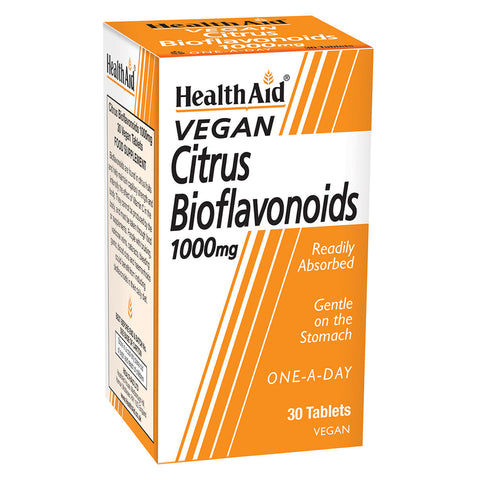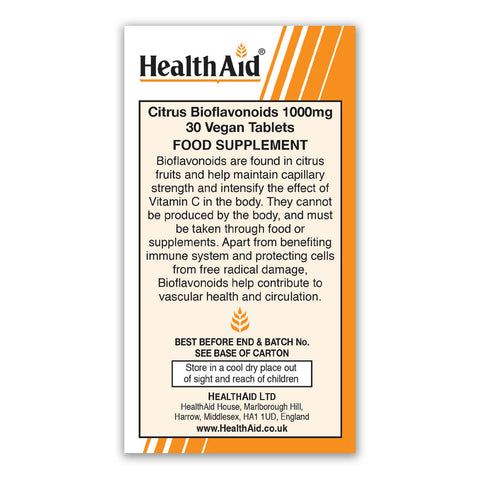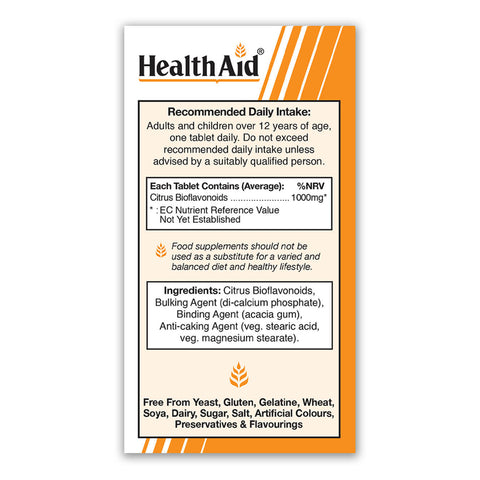 ---
---
Everyone knows the importance of Vitamin C for the immune system. Did you know that Vitamin C also assists with healthy teeth, gums, skin, joints and bones? Winter, stress physically and mentally, and reoccurring health concerns can all affect your immune health. If you are feeling the effects of the cold winter months, or excessive stress on your immune health, then supplement your healthy diet and exercise with HealthAid®'s Citrus Bioflavonoid 1000mg Tablets, which work by intensifying the effects of Vitamin C in the body.
Bioflavonoids are found in citrus fruits and contribute to the maintenance of capillary strength and intensify the effect of Vitamin C in the body. They cannot be produced by the body and must be taken through food or supplements. People with bruising, varicose veins, cataracts, bleeding gums, blood clots and haemorrhoids could benefit from including bioflavonoids in their daily diet.
Benefits
Recommended Daily Intake
Adults and children over 12 years of age, one tablet daily. Do not exceed recommended daily intake unless advised by a suitably qualified person. Food supplements should not be used as a substitute for a varied and balanced diet and healthy lifestyle. All and any changes to your diet and supplement regime should first be cleared with your personal medical professional. This description should not be taken as medical advice, a doctor should be consulted for any medical issues. Allergy information: For allergens, see ingredients in bold.
Free From
Free from added Sugar and Salt Free from Corn, Gluten, Dairy, Gelatin, Yeast, Lactose, Starch, Wheat, Soya, Nut GMO Compliant Free from Artificial Colours, Flavourings and Preservatives Suitable for Vegetarians and Vegans
Nutritional Information
Citrus Bioflavonoid 1000mg Tablets contains (average):
Nutrient
Value
%NRV
Bioflavonoids
1000mg
*
*: EC Nutrient Reference Value Not Yet Established
Ingredients
Citrus Bioflavonoids, Bulking Agent (di-calcium phosphate), Binding Agent (Acacia gum), Anti-Caking Agent (veg. Stearic Acid, veg. Magnesium Stearate)