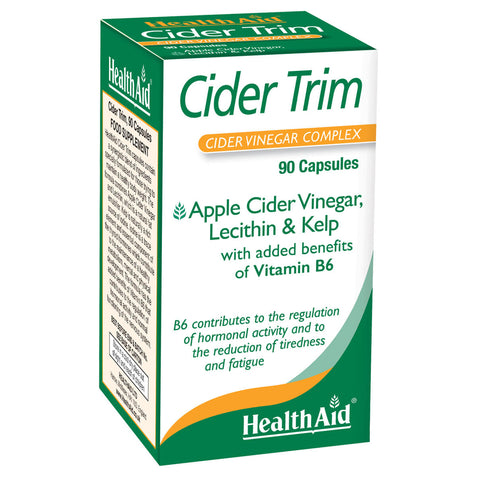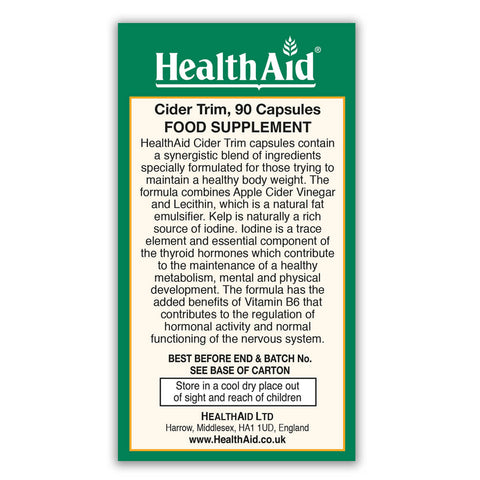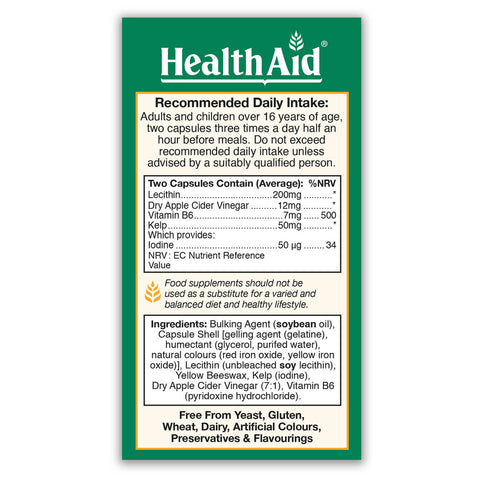 ---
---
Cider Trim Capsules contain a synergistic blend of ingredients specially formulated for those trying to slim or maintain a healthy body weight. The formula combines Apple Cider Vinegar and Lecithin, which is a natural fat emulsifier. Kelp is naturally a rich source of iodine. Iodine is a trace element and essential component of the thyroid hormones which help maintain a healthy metabolism, mental and physical development. The formula has the added benefits of Vitamin B6 that contributes to the regulation of hormonal activity and to the normal functioning of the nervous system and psychological function.

Benefits
Recommended Daily Intake
Adults and children over 16 years of age, two capsules three times a day half an hour before meals. Do not exceed recommended daily intake unless advised by a suitably qualified person.
Free From
** Free From Yeast, Gluten, Wheat, Dairy, Artificial Colours, Preservatives & Flavourings
Nutritional Information
Cider Trim Capsules contains (average):
Nutrient
Value
%NRV
Lecithin
200mg
*
Yellow Beeswax
84mg
*
Dry Apple Cider Vinegar (powder equivalent)
12mg
*
Vitamin B6
7mg
500
Iodine
50µg
34
*: EC Nutrient Reference Value Not Yet Established
Ingredients
Bulking Agent (soybean oil), Capsule Shell [gelling agent (gelatine), humectant (glycerol, purifed water), natural colours (red iron oxide, yellow iron oxide)], Lecithin (unbleached), Yellow Beeswax, Kelp (iodine), Dry Apple Cider Vinegar (7:1), Vitamin B6 (pyridoxine hydrochloride).