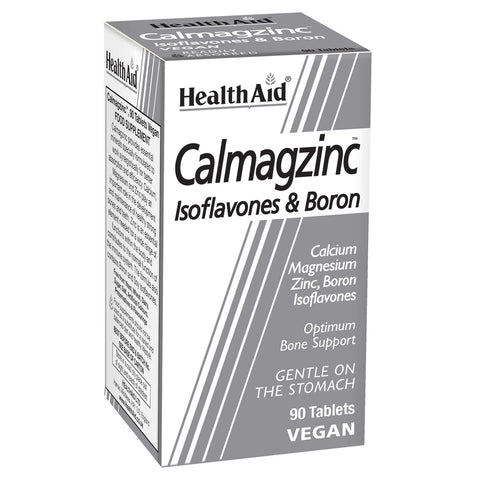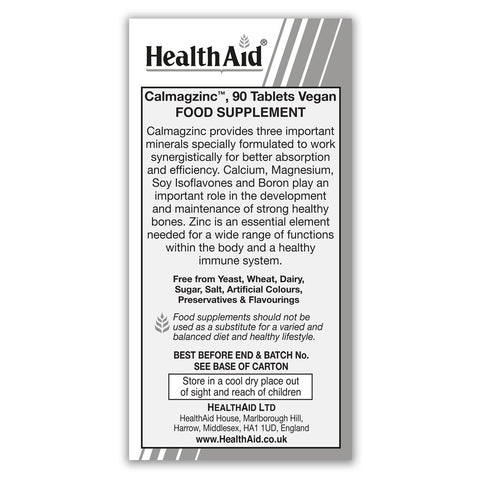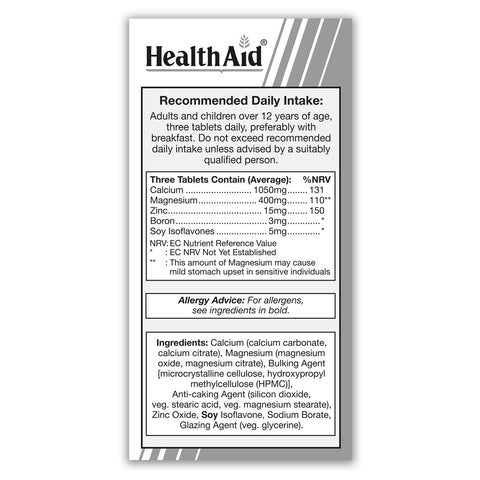 ---
---
Calmagzinc Tablets provide three essential minerals that have been specially formulated to work together for better absorption and efficiency. Calcium, Magnesium and Zinc each contribute to different aspects of bone formation, density and overall skeletal well-being. CalMagZinc is also enriched with additional ingredients to support bone health. 
Calcium, Magnesium, Soy Isoflavones and Boron play an important role in the development and maintenance of healthy strong bones. Zinc is an essential mineral needed for a wide range of functions within the body and contributes to the maintenance of a healthy immune system.  
Benefits
Recommended Daily Intake
Adults and children over 12 years of age, three tablets daily, preferably with breakfast. Do not exceed recommended daily intake unless advised by a suitably qualified person.
Free From
Free from Yeast, Wheat, Dairy, Sugar, Salt, Artificial Colours, Preservatives and Flavourings.
Nutritional Information
Calmagzinc Tablets contains (average):
| Ingredient | Value | %NRV |
| --- | --- | --- |
| Calcium | 1050mg | 131 |
| Magnesium | 400mg | 110** |
| Zinc | 15mg | 150 |
| Boron | 3mg | * |
| Soy Isoflavone | 5mg | * |
*: EC Nutrient Reference Value Not Yet Established
Ingredients
Calcium (calcium citrate, calcium carbonate), Magnesium (magnesium citrate, magnesium oxide), Bulking Agent [microcrystalline cellulose, hydroxy propyl methyl cellulose (HPMC)], Stabiliser (crosslinked sodium carboxy methyl cellulose), Anti-caking Agent (veg. stearic acid, veg. magnesium silicate), Zinc Oxide, Soy Isoflavone, Sodium Borate. **: This amount of Magnesium may cause mild stomach upset in sensitive individuals.