Calcium Complete 800mg Tablets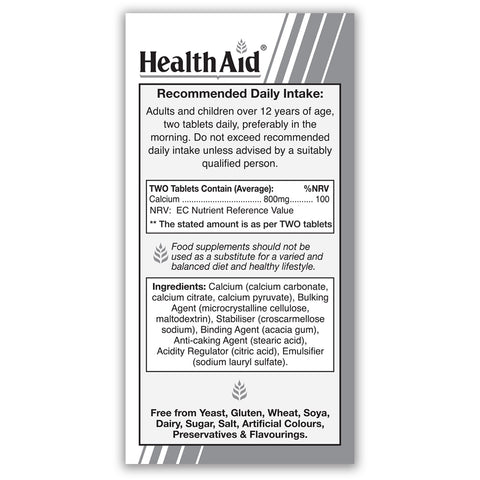 ---
---
Often the signs of health problems and the natural ageing process exasperates the need for additional nutritional supplementation. Certain health issues can cause your body's natural stores of Vitamins and Minerals to deplete, which leaves you fatigued and prone to bone fracture consequences. Adequate supplementation of Vitamin and Mineral tablets, alongside a healthy diet, can increase your energy levels and recovery times.
Calcium contributes to the maintenance of strong bones and healthy teeth. It also contributes to normal function of digestive enzymes and normal energy-yielding metabolism. It plays an important role in the maintenance of normal nervous system function, heartbeat, muscle and other vital organs.

Benefits
Recommended Daily Intake
Adults and children over 12 years of age, two tablets daily, preferably in the morning. Do not exceed recommended daily intake unless advised by a suitably qualified person. Food supplements should not be used as a substitute for a varied and balanced diet and healthy lifestyle. All and any changes to your diet and supplement regime should first be cleared with your personal medical professional. This description should not be taken as medical advice, a doctor should be consulted for any medical issues. Allergy information: For allergens, see ingredients in bold.
Free From
Free from added Sugar and Salt Free from Gluten, Dairy, Yeast, Lactose, Starch, Wheat, Soya Free from Artificial Colours, Preservatives, and Flavourings Suitable for Vegans and Vegetarians
Nutritional Information
Calcium Complete 800mg Tablets contains (average):
| Ingredient | Value | %NRV |
| --- | --- | --- |
| Calcium (Amino Acid Chelate, Citrate, Carbonate, Pyruvate) | 800mg | ** |
*: EC Nutrient Reference Value Not Yet Established
Ingredients
Calcium (calcium carbonate, calcium citrate, calcium pyruvate), Bulking Agent (microcrystalline cellulose, maltodextrin), Stabiliser (cross carmellose sodium), Binding Agent (acacia gum), Anti-caking Agent (veg. stearic acid), Acidity Regulator (citric acid), Emulsifier (sodium lauryl sulfate)