Branch Chain Amino Acids + Vitamin B6 Tablets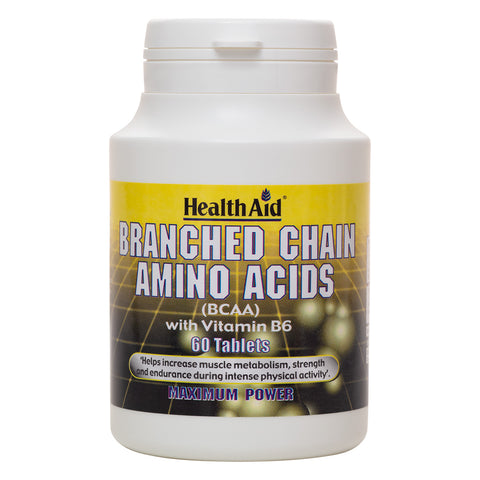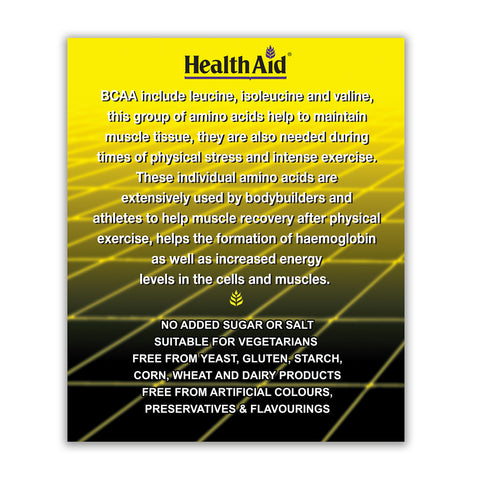 ---
---
Branched Chain Amino Acid Tablets contain Branched Chain Amino Acids, including Leucine, Isoleucine and Valine. This group of amino acids contribute to the maintanance of muscle tissue, they are also needed during times of physical stress and intense exercise.
These individual amino acids are extensively used by bodybuilders and athletes to help muscle recovery after physical exercise and contribute to the formation of haemoglobin, as well as increase energy levels in the cells and muscle.
Benefits
Recommended Daily Intake
Can be taken on a daily basis to provide the essential support for those that exercise often. Adults and children over 16 years of age, one to two tablets daily on an empty stomach. Do not exceed recommended daily intake unless advised by a suitably qualified person. ** Food Supplements should not be used as a substitute for a varied and balanced diet and healthy lifestyle.
Nutritional Information
Branch Chain Amino Acids + Vitamin B6 Tablets contains (average):
| Amino Acid | Value | %NRV |
| --- | --- | --- |
| L-Leucine | 225mg | * |
| L-Isoleucine | 200mg | * |
| L-Valine | 150mg | * |
| Vitamin B6 (Pyridoxine HCl) | 10mg | 500 |
*: EC Nutrient Reference Value Not Yet Established
Ingredients
Di-Calcium Phosphate, L-Leucine, L-Isoleucine, L-Valine, Microcrystalline cellulose, Polyvinyl pyrrolidone (PVP), Vitamin B6 (Pyridoxine HCl), Stearic Acid*, Magnesium Stearate* * From Vegetable Source. >