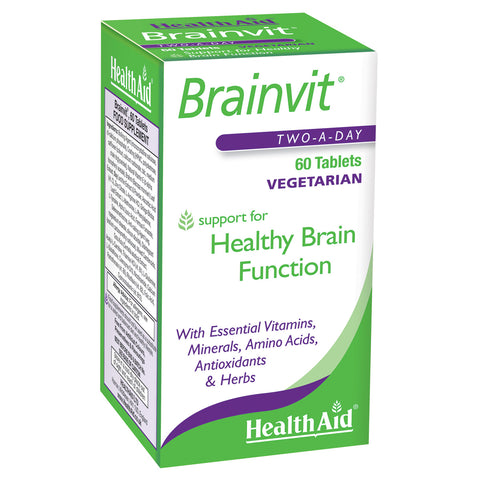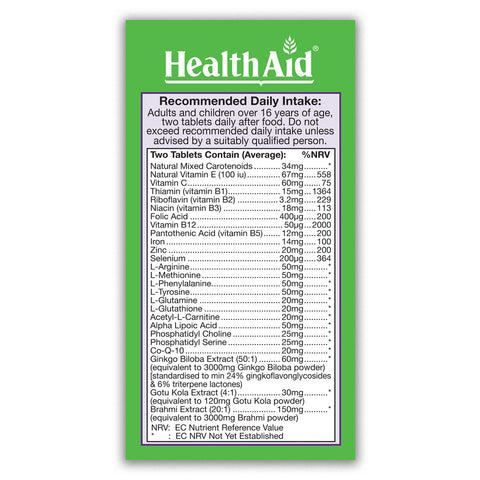 ---
---
The brain, the most vital organ in the body, requires a steady supply of nutrients to support its function. Due to the pressures of modern-day living, stress and age, the brain's ability to function optimally is often impaired. Brainvit Tablets contain selected Vitamins, Amino Acids, Antioxidants and Herbs that play a vital role in the optimal circulation of blood to and from the brain, hence assisting in cognitive concentration and memory retention. By prioritising the nourishment of this vital organ, Brainvit Tablets aspire to boost cognitive function, focus and energy, to help you through mentally demanding days. 
Benefits
Recommended Daily Intake
Adults and children over 16 years of age, two tablets daily after food. Do not exceed recommended daily intake unless advised by a suitably qualified person.
Free From
Free From Artificial Colours, Preservatives and Flavourings.
Nutritional Information
BrainVit® Tablets contains (average):
Ingredient
Value
%NRV
Natural mixed carotenoids
34mg
*
Vitamin C
60mg
75
Riboflavin (vitamin B2)
3.2mg
229
Folic acid
400ug
200
Pantothenic acid (vitamin B5)
12mg
200
Zinc
14mg
140
L-Arginine
50mg
*
L-Phenylalanine
50mg
*
L-Glutamine
20mg
*
Acetyl-L-Carnitine
20mg
*
Phosphatidyl Choline
25mg
*
Co-Q-10
20mg
*
Ginkgo Biloba Extract (50:1) (equivalent to 3000mg powder) [standardised to min 24% gingkoflavanglycosides & 6% triterpene lactones]
60mg
*
Gotu Kola Extract (4:1) (equivalent to 120mg of gotu kola powder)
30mg
*
Brahmi extract (20:1) (equivalent to 3000mg powder)
150mg
*
Natural Vitamin E (100iu)
67mg
558
Thiamine (vitamin B1)
15mg
1364
Niacin (vitamin B3)
18mg
113
Vitamin B12
50ug
2000
Iron
14mg
100
Selenium
200ug
364
L-Methionine
50mg
*
L-Tyrosine
50mg
*
L-Glutathione
20mg
*
Alpha lipoic acid
50mg
*
Phosphatidyl Serine
25mg
*
Serine
25mg
*
*: EC Nutrient Reference Value Not Yet Established
Ingredients
Bulking Agent (microcrystalline cellulose, di-calcium phosphate), NaturalVitamin E (d-alpha tocopheryl acetate), Brahmi (Bacopa monnieri) Leaf Extract, Soy Lecithin Extract, Vitamin C (ascorbic acid), L-Arginine Hydrochloride, Ginkgo Biloba Leaf Extract, Anti-caking Agent (veg. magnesium stearate, silicon dioxide), Stabiliser (crosslinked sodium carboxy methyl cellulose), Glazing Agent [hydroxypropyl methylcellulose (HPMC), glycerine], L-Methionine, L-Phenylalanine, L-Tyrosine, Alpha Lipoic Acid, Zinc Citrate, Ferrous Fumerate, Mixed Carotenoids, Gotu Kola (Centella asiatica) Extract, Acetyl-L-Carnitine, Vitamin B1 (thiamine HCl), L-Glutamine, L-Glutathione, Coenzyme Q10, Nicotinamide, Pantothenic Acid (calcium pantothenate),Vitamin B2 (riboflavin), Selenomethionine,Folic Acid, Vitamin B12 (cyanocobalamin).