Beta Glucan Complex Capsules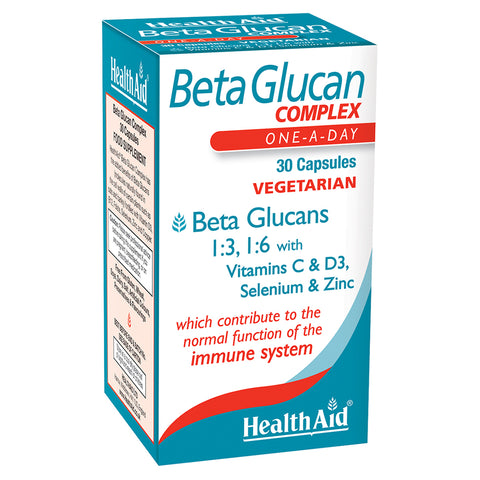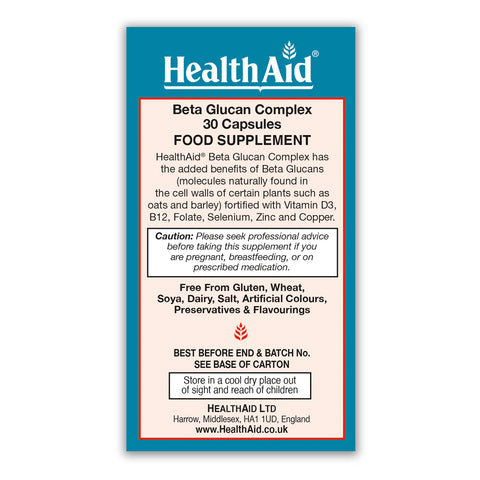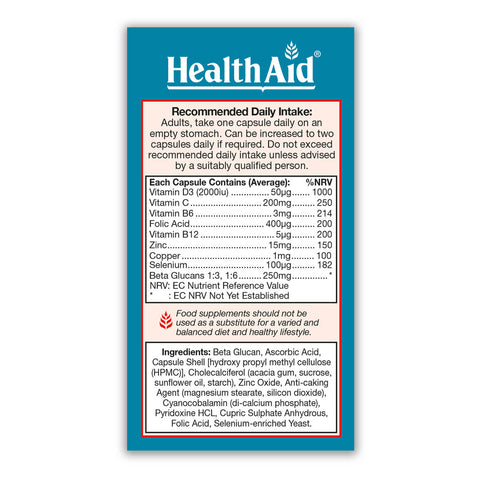 ---
---
Supporting the body's natural immunity contributes to an overall feeling of wellness, a reduced duration of feeling unwell and provides relief from some of the signs of cold and flu. HealthAid® Beta Glucan Complex combines the added benefits of Vitamins C, D3 and B12 as well as Selenium, Copper, Zinc and Folate, which are known to contribute to the normal function of a healthy immune system. 
Beta Glucans are molecules which naturally occur in the cell walls of certain grains such as oats and barley. They are known for their immune-enhancing properties due to their ability to stimulate the activation of macrophages (immune response cells which eliminate invading organisms). HealthAid® Beta Glucan Capsules have been specially formulated with ingredients to reduce oxidative stress and contribute to the normal function of the immune system. 
Benefits
Recommended Daily Intake
Adults, take one capsule daily on an empty stomach. Can be increased to two capsules daily if required. Do not exceed recommended daily intake unless advised by a suitably qualified person.
Free From
Free From Gluten, Wheat, Soya, Dairy, Salt, Artificial Colours, Preservatives and Flavourings.
Nutritional Information
Beta Glucan Complex Capsules contains (average):
Nutrient
Value
%NRV
Vitamin D3 (2000iu)
50µg
1000
Vitamin C
200mg
250
Vitamin B6
3mg
214
Folic acid
400µg
200
Vitamin B12
5µg
200
Zinc
15mg
150
Copper
1mg
100
Selenium
100µg
182
Beta Glucan 1,3-1,6
250mg
*
*: EC Nutrient Reference Value Not Yet Established
Ingredients
Beta Glucan, Ascorbic Acid, Capsule Shell [hydroxy propyl methyl cellulose (HPMC)], Cholecalciferol (acacia gum, sucrose, sunflower oil, starch), Zinc Oxide, Anti-caking Agent (magnesium stearate, silicon dioxide), Cyanocobalamin (di-calcium phosphate), Pyridoxine HCL, Cupric Sulphate Anhydrous, Folic Acid, Selenium-enriched Yeast.