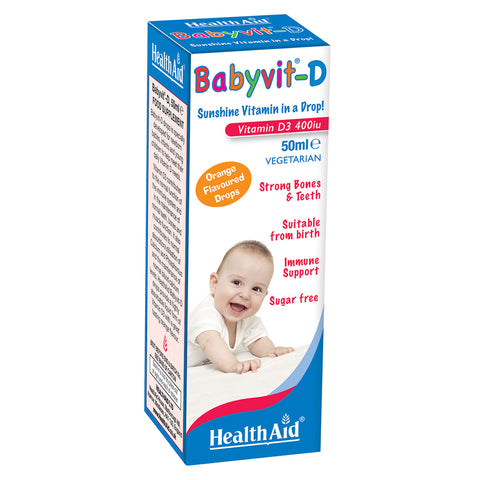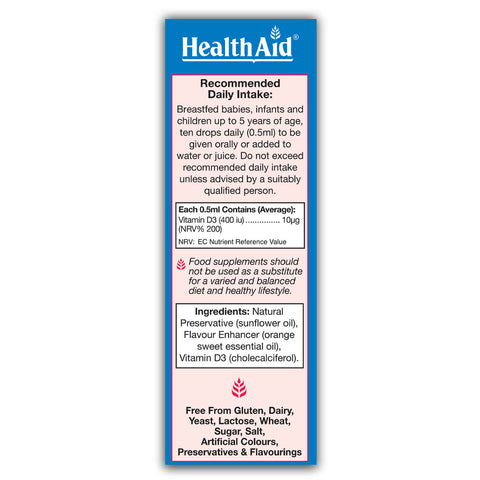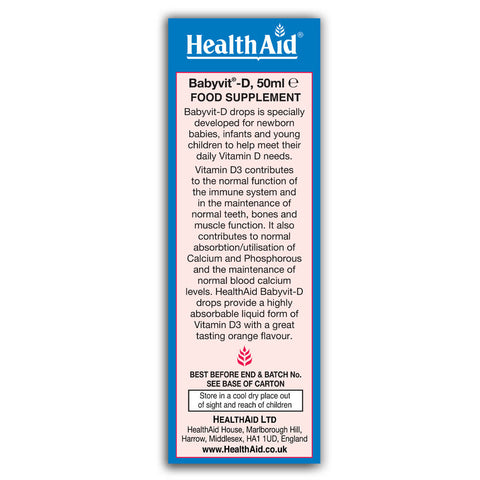 SKU: 801226
ISBN: 5019781012367
---
---
Vitamin D is known as the sunshine Vitamin. Our bodies convert sunlight into Vitamin D. This Vitamin is essential to the normal function of the body. Winter months and extended periods of time spent indoors mean our bodies cannot receive enough Vitamin D. This is particularly relevant for babies, young children and infants. 
Babyvit®-D drops are specially developed for newborn babies, infants and young children to help meet their daily Vitamin D needs. Vitamin D3 Drops contribute to the normal function of the immune system and the maintenance of normal teeth, bones and muscle function. They also contribute to the normal absorption and utilisation of Calcium and Phosphorus and the maintenance of normal blood calcium levels. HealthAid® Babyvit® -D drops provide a highly absorbable liquid form of Vitamin D3 in a great-tasting orange flavour. 
Benefits
Recommended Daily Intake
Breastfed babies, infants and children up to 5 years of age, ten drops daily (0.5ml) to be given orally or added to water or juice. Do not exceed recommended daily intake unless advised by a suitably qualified person.
Free From
Free From Gluten, Dairy, Yeast, Lactose, Wheat, Sugar, Salt, Artificial Colours, Preservatives and Flavourings.
Nutritional Information
Babyvit®- D Drops contains (average):
Nutrient
Value
%NRV
Vitamin D (400iu)
10µg
200
*: EC Nutrient Reference Value Not Yet Established
Ingredients
Natural Preservative (sunflower oil), Flavour Enhancer (orange sweet essential oil), Vitamin D3 (cholecalciferol).