B-vital Effervescent Tablets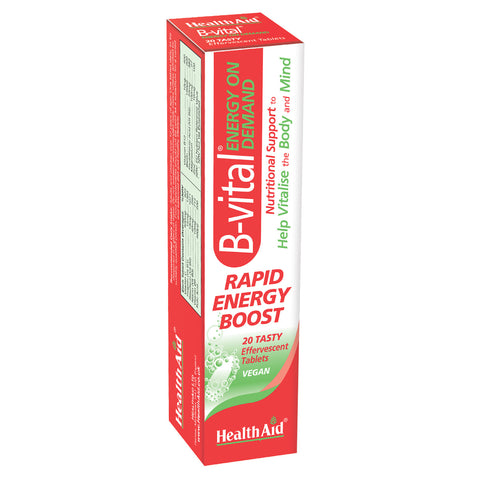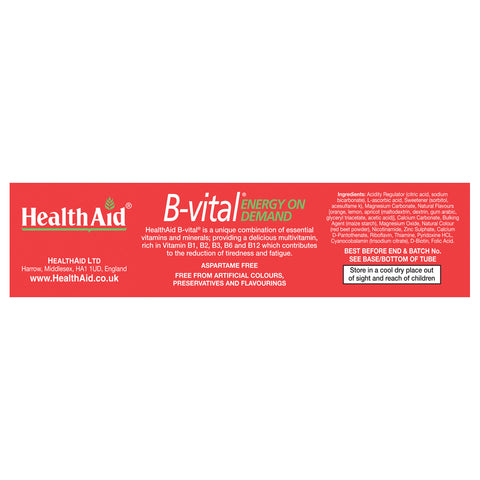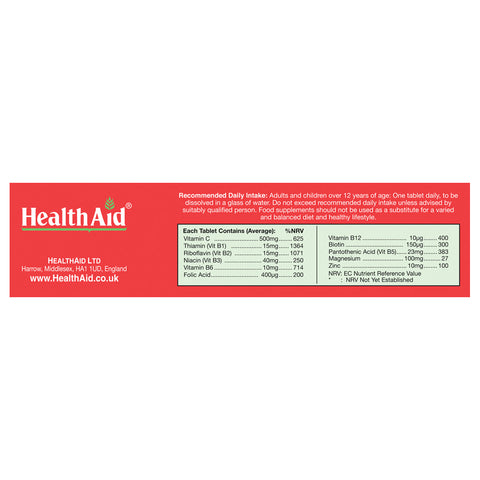 ---
---
It is crucial to achieve an energy boost in a healthy and sustainable manner, avoiding excessive caffeine or stimulant consumption, which can lead to crashes or negative health effects. 
HealthAid® B-Vital is a unique combination of essential Vitamins and Minerals, providing a delicious multivitamin, rich in Vitamins B1, B2, B3, B6 and B12, to help achieve a natural, rapid energy boost and manage tiredness and fatigue. Increased energy levels can enhance alertness, focus and physical performance, improve mood, productivity and efficiency, social interaction, mental clarity and creativity, stress management and overall well-being. 
B-vital effervescent tablets aspire to boost cognitive function, focus and energy, to help you through mentally demanding days. 
Benefits
Recommended Daily Intake
Adults and children over 12 years of age: One tablet daily, to be dissolved in a glass of water. Do not exceed recommended daily intake unless advised by suitably qualified person.
Free From
Free From Artificial Colours, Preservatives and Flavourings, Aspartame Free.
Nutritional Information
B-vital Effervescent Tablets contains (average):
Ingredient
Value
%NRV
Vitamin C
500mg
625
Thiamin
15mg
1364
Riboflavin
15mg
1071
Niacin
40mg
250
Vitamin B6
10mg
714
Folic Acid
400µg
200
Vitamin B12
10µg
400
Biotin
150µg
300
Pantothenic Acid
23mg
383
Magnesium
100mg
27
Zinc
10mg
100
*: EC Nutrient Reference Value Not Yet Established
Ingredients
Citric acid, Sodium bicarbonate, Sorbitol, Vitamin C (ascorbic acid), Calcium carbonate, Magnesium carbonate, Orange flavour, Maize Starch, Magnesium oxide, Redbeet powder, Acesulfame K, Niacin (nicotinamide), Zinc sulphate, Calcium d-pantothenate, Lemon flavour, Riboflavin, Thiamine, Vitamin B6 (pyridoxinne hydrochloride), Vitamin B12 (cyanocobalamine), Biotin, Apricot flavour, Folic acid.