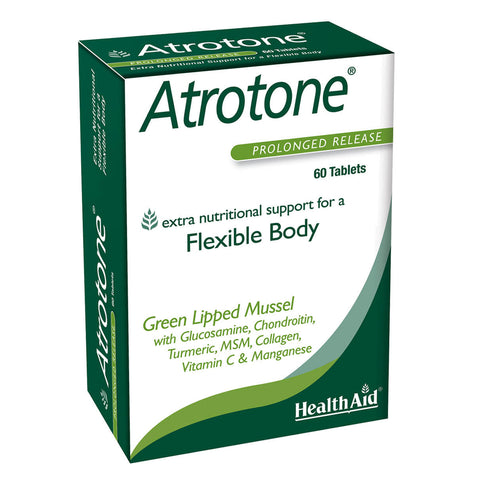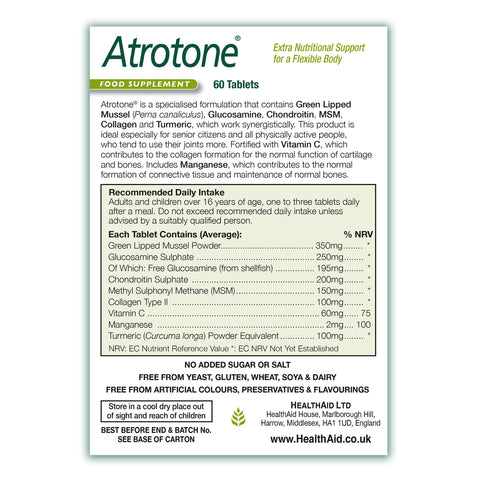 ---
---
Atrotone® Tablets contain Green Lipped Mussel, Glucosamine, Chondroitin, MSM, Collagen and Turmeric, which work in synergy to help maintain joint suppleness and elasticity of tendons, ligaments and connective tissue. The ingredients used to create Atrotone® are all extracted from natural sources. These extracts are of the highest quality possible to produce an effective and supportive supplement.
Atrotone® Tablets are suitable for active people who are always on the go,?athletes who tend to use their joints more as they train and senior citizens coping with ageing joints. Suitable for men and women of all ages.


Benefits
Recommended Daily Intake
Adults and children over 16 years of age: one to three tablets daily after a meal.  Do not exceed recommended daily intake unless advised by a suitably qualified person.
Free From
Free from added Sugar and Salt Free from Gluten, Soya, Wheat, Lactose, Starch, Corn, Peanut, Gelatine and Dairy Free from Artificial Colours, Preservatives and Flavourings Contain shellfish. CAUTION: DIABETICS SHOULD CONSULT A DOCTOR BEFORE TAKING THIS SUPPLEMENT.
Nutritional Information
Atrotone® Tablets contains (average):
Nutrient
Value
%NRV
Green Lipped Mussel powder
350mg
*
Glucosamine Sulphate
250mg
*
Of which: Free Glucosamine (from shellfish)
195mg
*
Chondroitin Sulphate
200mg
*
Methyl Sulfinyl Methane (MSM)
150mg
*
Collagen Type II
100mg
*
Vitamin C
60mg
75
Manganese
2mg
100
Turmeric (Curcuma Longa) powder equivalent
100mg
*
*: EC Nutrient Reference Value Not Yet Established
Ingredients
Glucosamine Sulphate (2KCl), Green Lipped Mussel Powder (molluscs), Bulking Agent (microcrystalline cellulose), Chondroitin Sulphate, Methyl Sulphonyl Methane (MSM), Anti-caking Agent (silicon dioxide, veg. stearic acid, veg. magnesium stearate), Collagen Type II, Vitamin C (ascorbic acid), Coating [hydroxypropyl methylcellulose (HPMC), iron oxide], Glazing Agent (vegetable glycerine), Turmeric Root Standardised Extract (10:1), Manganese Sulphate.