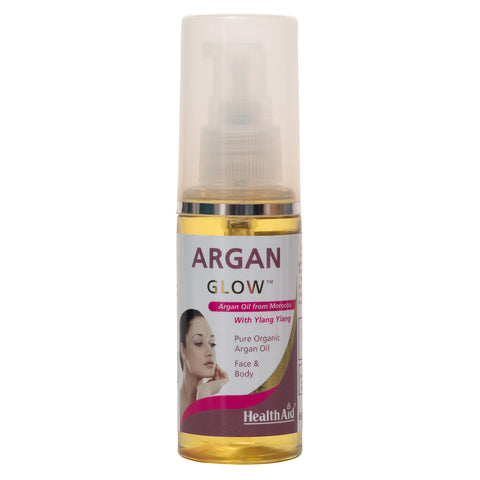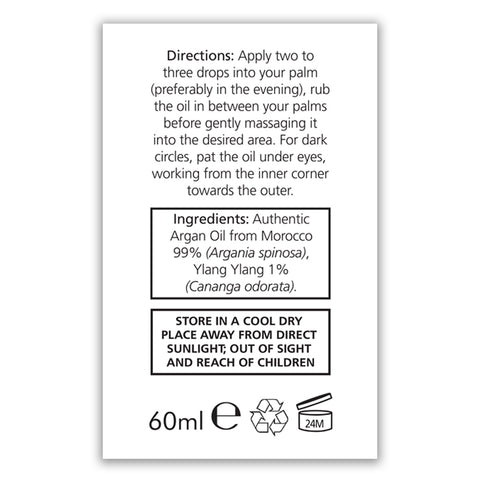 ---
---
Argan Glow Oil 60ml contains Argan Oil, which is renowned as a natural anti-ageing cosmetic product. It is rich in eight essential fatty acids, carotenoids, anti- oxidants, sterols, saponins and polyphones. It also contains high levels of vitamins E and C, both of which are essential for the skin. It is this unique blend of natural, rare and essential components that makes Argan Glow Oil work wonders by helping to maintain body's radiance, restoring the skin's lipid layer and thereby improving the skin's health and beauty. Free radicals are eradicated from the body by the oil's natural anti-oxidant properties, which are essential in protecting the skin against the rigours of today's society. Argan Glow Oil is organic, non-greasy, combined with aromatic Ylang Ylang, which is highly beneficial to lessen the tension and stress of modern lifestyle.
Benefits
How to Use
Apply two to three drops of oil into your palm (preferably in the evening); rub the oil in between your palms before gently massaging it into the desired area. For dark circles, pat the oil under eyes, working from the inner corner towards the outer. The oil penetrates easily and does not leave an oily residue due to its highly absorptive properties.
Free From
Parabens, sulphates, propylene glycols, PEGS, TEA Artificial colours or fragrances No animal based products or animal testing Vegetarian/Vegan friendly
Nutritional Information
Argan Glow Oil contains (average):
Ingredients
Authentic Argan Oil from Morocco 99%(Argania spinosa), Ylang Ylang 1% (Cananga odorata).