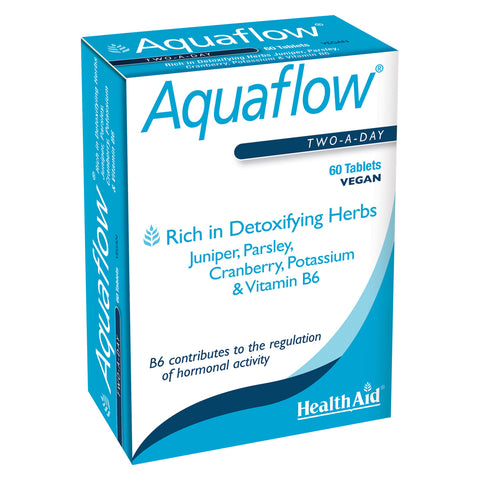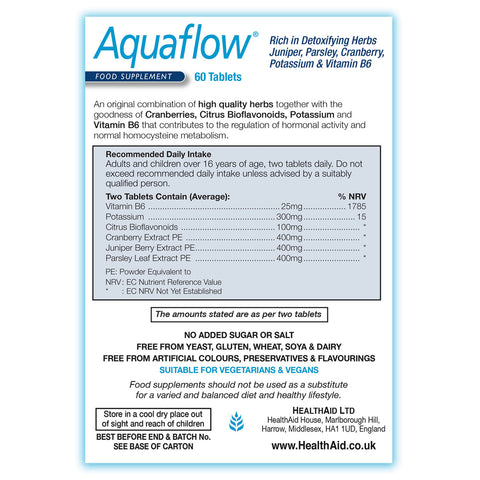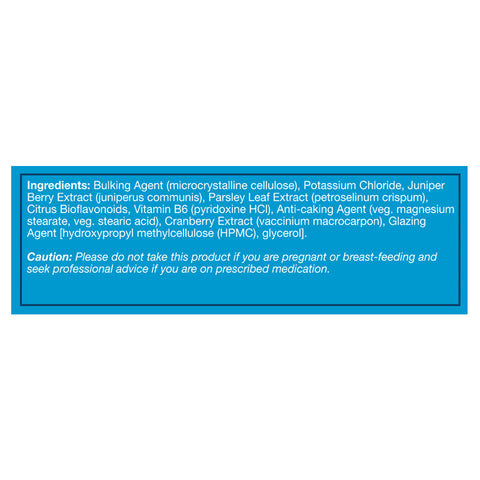 ---
---
Water retention is an abnormal build-up of excess fluid (water) within the body. When the smallest blood vessels (capillaries), begin to leak water into tissues, it causes puffiness. Women usually experience it before menstruation or during pregnancy. Other factors that may contribute to water retention include deficiency of magnesium, potassium and Vitamin B6, dehydration, poor kidney function, sluggish circulation and hormonal imbalance.

Aquaflow® Tablets are an original combination of Potassium and Vitamin B6 together with the goodness of Cranberries, Citrus Bioflavonoids, and high-quality Herbs (Juniper and Parsley Extracts).
Benefits
Recommended Daily Intake
Adults and children over 16 years of age, two tablets daily. Do not exceed recommended daily intake unless advised by a suitably qualified person.
Free From
Free from added Sugar and Salt Free from Corn, Gluten, Dairy, Gelatine, Lactose, Yeast, Wheat, Soya Free from Artificial Colours, Preservatives, and Flavourings Suitable for Vegetarians and Vegans
Nutritional Information
Aquaflow® Tablets contains (average):
Nutrient
Value
%NRV
Vitamin B6
40mg
2857
Potassium
300mg
15
Citrus Bioflavonoids
100mg
*
Cranberry Extract PE
400mg
*
Juniper (Berry) PE
400mg
*
Parsley (Leaf) PE
400mg
*
*: EC Nutrient Reference Value Not Yet Established
Ingredients
Bulking Agent (microcrystalline cellulose), Potassium Chloride, Juniper Berry Extract (Juniperus communis), Parsley Leaf Extract (Petroselinum crispum), Citrus Bioflavonoids, Vitamin B6 (pyridoxine HCl), Anti-caking Agent (veg. magnesium stearate, veg. stearic acid), Cranberry Extract (Vaccinium macrocarpon), Glazing Agent [hydroxypropyl methylcellulose (HPMC), glycerol].