Aloe Vera 5000mg Capsules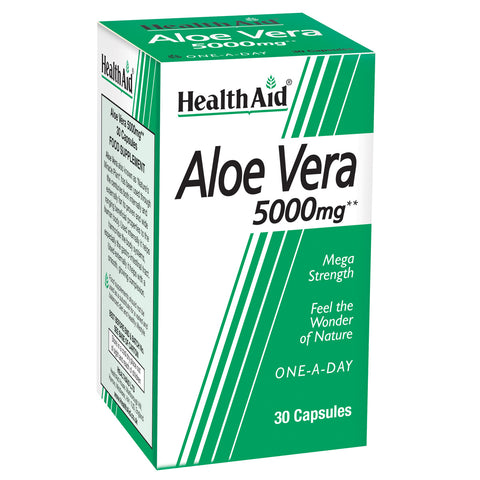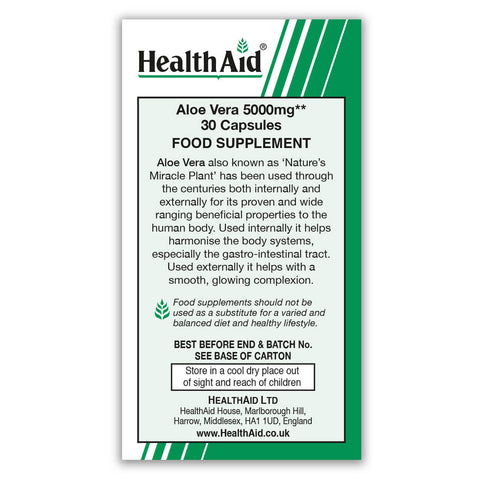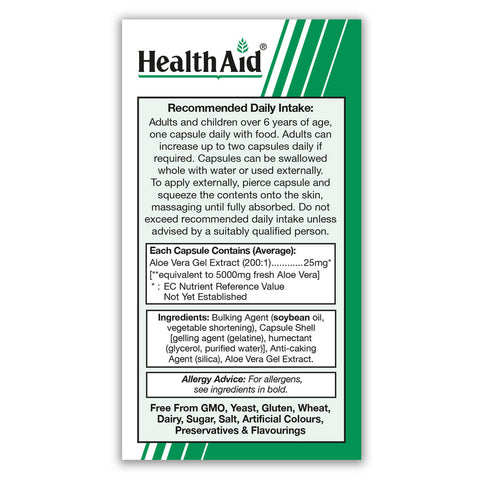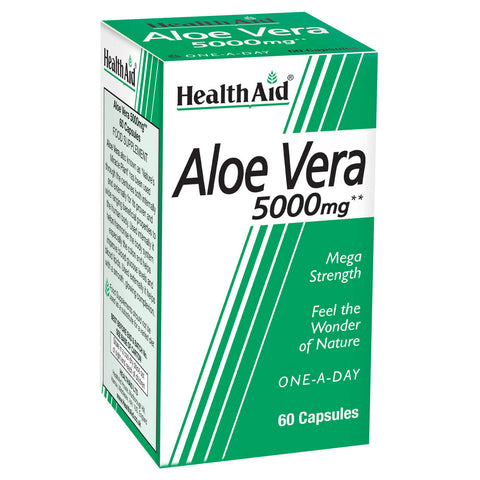 ---
---
Aloe Vera has strong anti-inflammatory and antioxidant properties, used internally it can help harmonise the body. Aloe Vera supplements aid in digestive health by promoting regularity and reducing discomfort. They offer immune system support, helping the body combat oxidative stress. They are often used for skin health, as they may help alleviate minor skin irritations and promote healing. 
HealthAid® Aloe Vera 5000mg Capsules contain a concentrated form of Aloe Vera, also known as 'Nature's Miracle Plant', which has been used through the centuries both internally and externally for its proven and wide-ranging medicinal and cosmetic properties to the human body. It is a gel-like substance, rich in bioactive compounds, Vitamins, Minerals, and Antioxidants. 
Benefits
Recommended Daily Intake
Adults and children over 6 years of age, one capsule daily with food. Adults can increase up to two capsules daily if required. Capsules can be swallowed whole with water or used externally. To apply externally, pierce capsule and squeeze the contents onto the skin, massaging until fully absorbed. Do not exceed recommended daily intake unless advised by a suitably qualified person.
Free From
Free From GMO, Yeast, Gluten, Wheat, Dairy, Sugar, Salt, Artificial Colours, Preservatives and Flavourings.
Nutritional Information
Aloe Vera 5000mg Capsules contains (average):
Ingredients
Amount
%NRV
Aloe Vera Gel Extract (200:1) (equivalent to 5000mg fresh Aloe Vera)
25mg
*
NRV: EC Nutrient Reference Value
*: EC Nutrient Reference Value Not Yet Established
Ingredients
Bulking Agent (soybean oil, vegetable shortening), Capsule Shell [gelling agent (gelatine), humectant (glycerol, purified water)], Anti-caking Agent (silica), Aloe Vera Gel Extract.