Acidophilus (100million) +FOS Tablets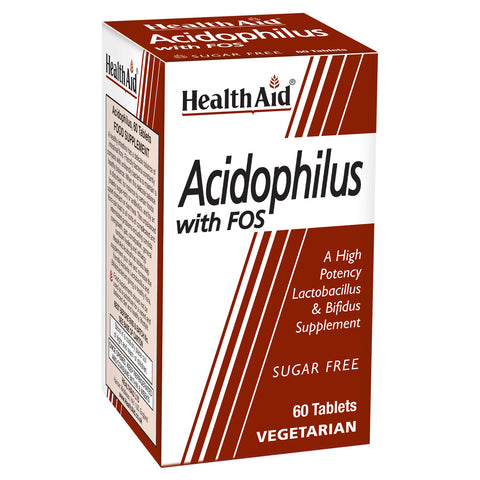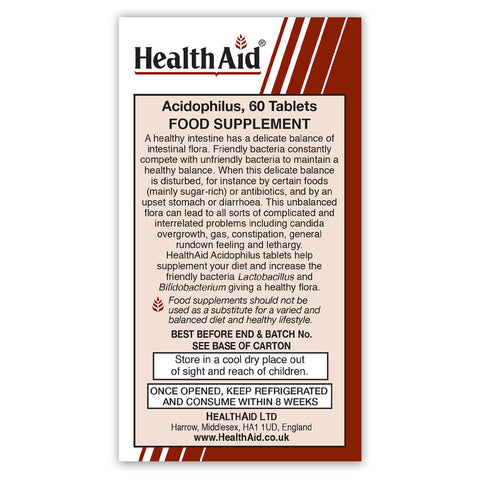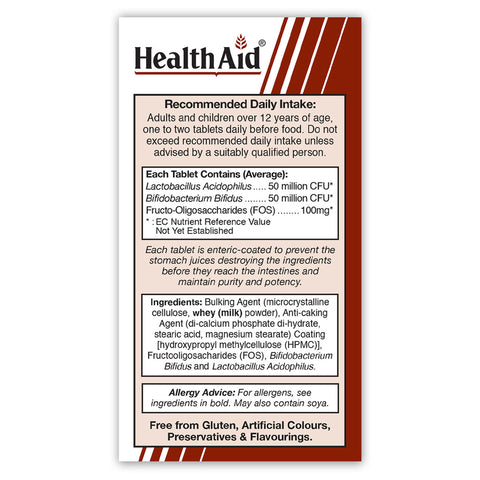 ---
---
A healthy digestive system contains a healthy balance of 'friendly' and 'unfriendly' bacteria. They are constantly in competition. Certain foods or antibiotics can increase 'unfriendly' bacteria or decrease the concentration of both 'friendly' and 'unfriendly' bacteria, resulting in digestive tract problems and compromised immunity.  
HealthAid® Acidophilus + FOS™ helps to supplement your diet by replenishing the 'friendly' bacteria, support the immune system and assist in the absorption of nutrients within the gut by providing 100 million special strains of Lactobacillus and Bifidobacterium (live microorganisms). Fructo-Oligosaccharides (FOS) a prebiotic, has been added to help support the growth of 'friendly' bacteria in the intestinal tract. 
Benefits
Recommended Daily Intake
Adults and children over 12 years of age, one to two tablets daily before food. Do not exceed recommended daily intake unless advised by a suitably qualified person.
Free From
Free from Gluten, Artificial Colours, Preservatives and Flavourings.
Nutritional Information
Acidophilus (100million) +FOS Tablets contains (average):
| Ingredients | Amount | % NRV |
| --- | --- | --- |
| Lactobacillus Acidophilus | 50 million CFU* | * |
| Bifidobacterium Bifidus | 50 million CFU* | * |
| Fructo-Oligosaccharides (FOS) | 100mg* | * |
: EC Nutrient Reference Value Not Yet Established
Ingredients
Bulking Agent (microcrystalline cellulose, whey (milk) powder), Anti-caking Agent (di-calcium phosphate di-hydrate, stearic acid, magnesium stearate) Coating [hydroxypropyl methylcellulose (HPMC)], Fructooligosacharides (FOS), Bifidobacterium Bifidus and Lactobacillus Acidophilus.