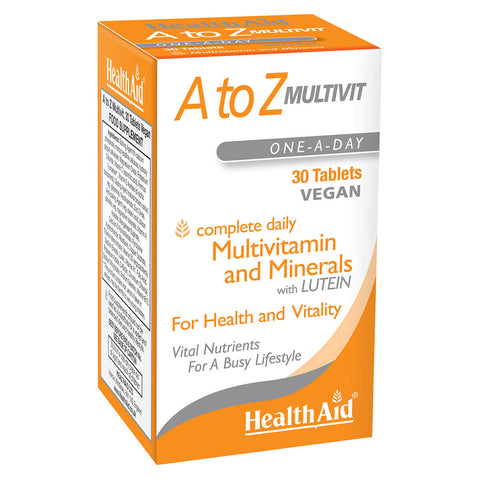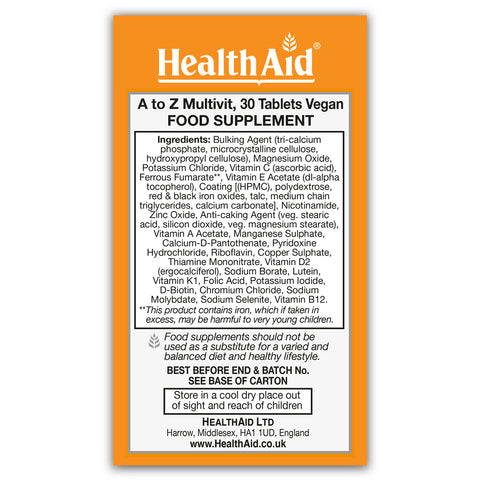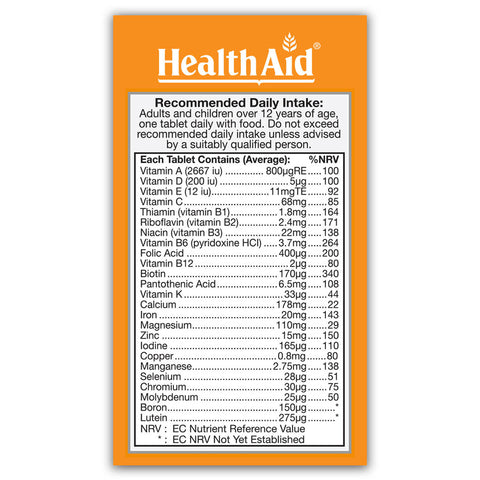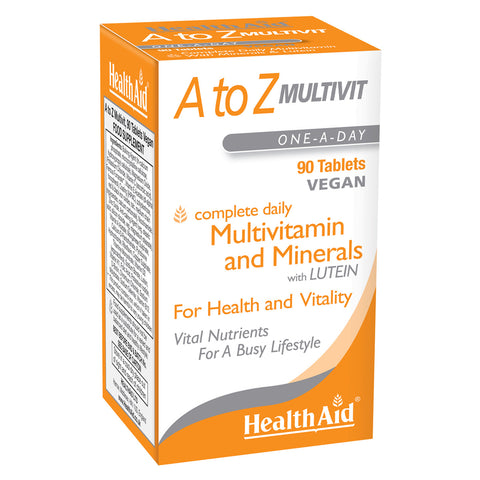 ---
---
A-Z Multivit tablets provide a balanced Vitamin and Mineral supplement ideal for the whole family, those who need additional support during strenuous physical or mental activity, poor eating habits and anyone looking to safeguard dietary intake of these important nutrients.   
A-Z Multivit contains all essential Vitamins, Minerals and Trace Elements including Vitamins A, C, D and Zinc which contribute to the normal function of the immune system. Magnesium and B Vitamins contribute to the normal function of the nervous system, fat and sugar metabolism, and reduction of tiredness and fatigue. Zinc contributes to normal cognitive (brain) function, hair, skin and nail health, normal testosterone levels, normal vision and protection of cells from oxidative stress. Vitamin B6 contributes to the regulation of hormonal activity. Vitamin D, K, Magnesium, Zinc, Calcium and Manganese contribute to the maintenance of normal bones and teeth. 
Benefits
Recommended Daily Intake
Adults and children over 12 years of age, one tablet daily with food. Do not exceed recommended daily intake unless advised by a suitably qualified person.
Free From
Free From Yeast, Gluten, Wheat, Artificial Colours and Flavourings.
Nutritional Information
A to Z Multivit Tablets contains (average):
Ingredients
Amount
%NRV
Vitamin A
800µg RE
100
Vitamin D
5µg
100
Vitamin E
11mg TE
92
Vitamin C
68mg
85
Thiamin (Vitamin B1)
1.8mg
164
Riboflavin (Vitamin B2)
2.4mg
171
Niacin (Vitamin B3)
22mg
138
Vitamin B6 (Pyridoxine HCL)
3.7mg
264
Folic acid
400µg
200
Vitamin B12
2µg
80
Biotin
170µg
340
Pantothenic acid
6.5mg
108
Vitamin K
33µg
44
Calcium
178mg
22
Iron
20mg
143
Magnesium
110mg
29
Zinc
15mg
150
Iodine
165µg
110
Copper
800µg
80
Manganese
2.75mg
138
Selenium
28µg
51
Chromium
30µg
75
Molybdenum
25µg
50
Boron
150µg
*
Lutein
275µg
*
NRV: EC Nutrient Reference Value
*: EC Nutrient Reference Value Not Yet Established
Ingredients
Bulking Agent (tri-calcium phosphate, microcrystalline cellulose, hydroxypropyl cellulose), Magnesium Oxide, Potassium Chloride, Vitamin C (ascorbic acid), Ferrous Fumarate**, Vitamin E Acetate (dl-alpha tocopherol), Coating [(HPMC), polydextrose, red & black iron oxides, talc, medium chain triglycerides, calcium carbonate], Nicotinamide, Zinc Oxide, Anti-caking Agent (veg. stearic acid, silicon dioxide, veg. magnesium stearate), Vitamin A Acetate, Manganese Sulphate, Calcium-D-Pantothenate, Pyridoxine Hydrochloride, Riboflavin, Copper Sulphate, Thiamine Mononitrate, Vitamin D2 (ergocalciferol), Sodium Borate, Lutein,Vitamin K1, Folic Acid, Potassium Iodide, D-Biotin, Chromium Chloride, Sodium Molybdate, Sodium Selenite, Vitamin B12. ** This product contains iron, which if taken in excess, may be harmful to very young children.