A to Z Active Effervescent Tablets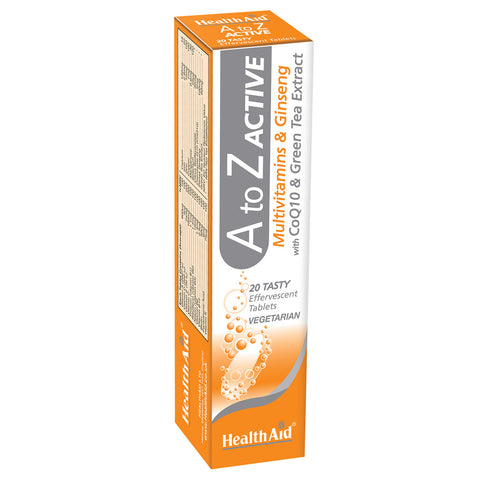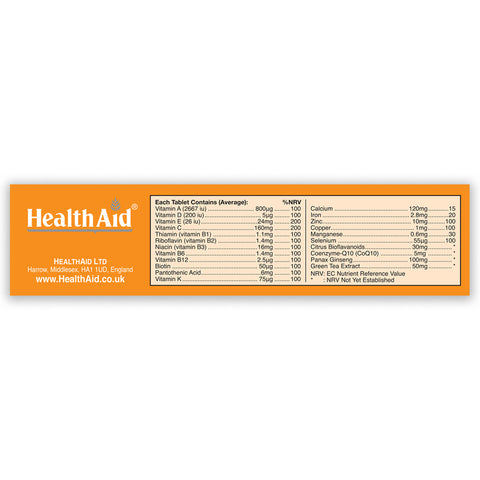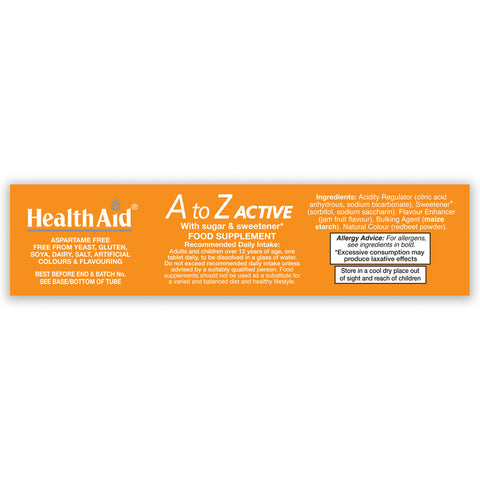 ---
---
A-Z Active Effervescent tablets provide a balanced Vitamin and Mineral supplement ideal for the whole family, those who need additional support during strenuous physical or mental activity, poor eating habits and anyone looking to safeguard dietary intake of these important nutrients. They are a great option for those who are unable to swallow tablets. 
A-Z Active Effervescent tablets contain all essential Vitamins, Minerals and Trace Elements including Vitamins A, C, D and Zinc, which contribute to the normal function of the immune system. B Vitamins contribute to the normal function of the nervous system, fat and sugar metabolism, and reduction of tiredness and fatigue. Vitamin B6 contributes to the regulation of hormonal activity. Vitamins D, K, Zinc, Calcium and Manganese contribute to the maintenance of normal bones and teeth. With additional benefits of Citrus Bioflavonoids, Panax Ginseng and CoQ10. 
Benefits
Recommended Daily Intake
Adults and children over 12 years of age, one tablet daily, to be dissolved in a glass of water. Do not exceed recommended daily intake unless advised by a suitably qualified person.
Free From
Free From Yeast, Gluten, Soya, Dairy, Salt, Artificial Colours and Flavourings and Aspartame.
Nutritional Information
A to Z Active Effervescent Tablets contains (average):
| Nutrient | Amount | %NRV |
| --- | --- | --- |
| Vitamin A | 800µg | 100 |
| Vitamin D | 5µg | 100 |
| Vitamin E | 24mg | 200 |
| Vitamin C | 160mg | 200 |
| Thiamin (Vitamin B1) | 1.1mg | 100 |
| Riboflavin (Vitamin B2) | 1.4mg | 100 |
| Niacin (Vitamin B3) | 16mg | 100 |
| Vitamin B6 | 1.4mg | 100 |
| Vitamin B12 | 2.5µg | 100 |
| Biotin | 50µg | 100 |
| Pantothenic acid | 6mg | 100 |
| Vitamin K | 75µg | 100 |
| Calcium | 120mg | 15 |
| Iron | 2.8mg | 20 |
| Zinc | 10mg | 100 |
| Copper | 1mg | 100 |
| Manganese | 0.6mg | 30 |
| Selenium | 55µg | 100 |
| Citrus Bioflavonoids | 30mg | * |
| Coenzyme-Q10 (CoQ10) | 5mg | * |
| Panax Ginseng | 100mg | * |
| Green Tea Extract | 50mg | * |
Ingredients
Acidity Regulator (citric acid anhydrous, sodium bicarbonate),Sweetener (sorbitol, sodium saccharin), Flavour Enhancer (jam fruit flavour), Bulking Agent (maize starch), Natural Colour (redbeet powder)