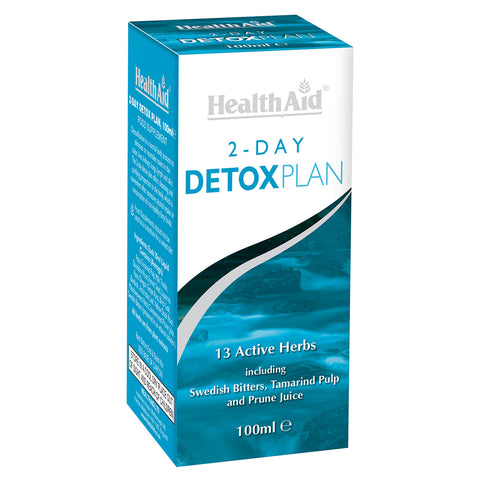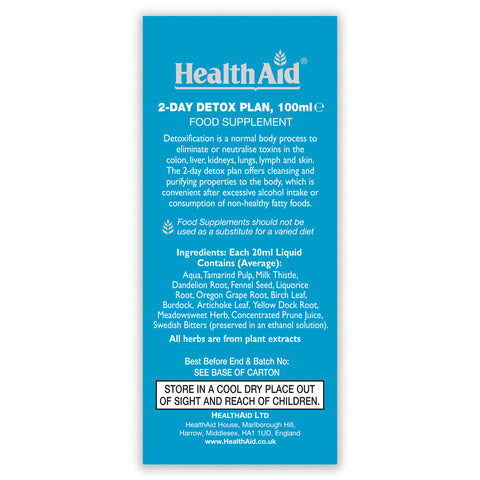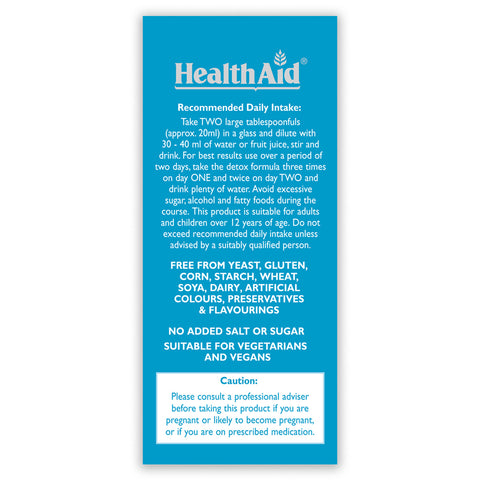 ---
---
Detoxification is a normal body process to eliminate or neutralise toxins in the colon, liver, kidneys, lungs, lymph and skin. The 2 Day Detox Plan offers cleansing and purifying properties to the body, which is convenient after excessive alcohol intake or consumption of non-healthy fatty foods. It contains scientifically selected plant extracts and powerful antioxidants, which could assist the body in eliminating toxic waste, keeping you clean and healthy.


Benefits
Recommended Daily Intake
Adults and children over 12 years of age, two large tablespoonfuls (approx. 20ml) in a glass and dilute with 30- 40ml of water or fruit juice. For best results use over two days, take three times on day ONE and twice on day two and drink plenty of water. Avoid excessive sugar, alcohol and fatty foods during the course.
Free From
FREE FROM YEAST, GLUTEN, CORN, STARCH, WHEAT, SOYA, DAIRY, ARTIFICIAL COLOURS, PRESERVATIVES & FLAVOURINGS
Nutritional Information
2-Day Detox Plan Liquid contains (average):
| Ingredient | Amount Per 20ml Serving (Average) |
| --- | --- |
| Milk thistle extract (1:3) (Silybum marianum) | 0.6g* |
| Tamarind pulp concentrate (4:1) | 0.04g* |
| Dandelion root extract (1:3) (Taraxacum officinalis rad) | 0.4g* |
| Artichoke leaf extract (1:3) (Cynara scolymus) | 0.4g* |
| Meadowsweet herb extract (1:3) (Filipendula ulmaria) | 0.4g* |
| Burdock extract (1:3) (Arctium lappa) | 0.4g* |
| Oregon grape root extract (1:3) (Mahonia aquifolium) | 0.3g* |
| Birch leaf extract (1:3) (Betula pendula) | 0.3g* |
| Liquorice root extract (1:3) (Glycyrrhiza glabra) | 0.2g* |
| Fennel seed extract (1:3) (Foeniculum vulgare) | 0.2g* |
| Yellow dock root extract (1:3) (Rumex crispus) | 0.01g* |
| Swedish bitters extract (1:3) | 0.08g* |
| Prune juice | 0.02g* |
Ingredients
Aqua, Tamarind pulp, Milk thistle, Dandelion root, Fennel seed, Liquorice root, Oregon grape root, Birch leaf, Burdock, Artichoke leaf, Yellow dock root, Meadowsweet herb, Concentrated prune juice, Swedish bitters (preserved in an ethanol solution)