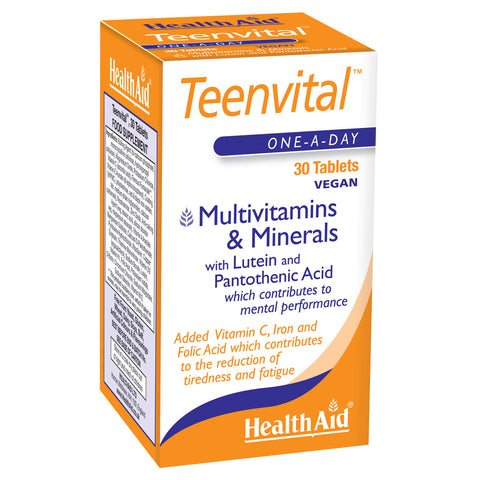 ---
---
Teenvital Tablets were formulated to help with the unique challenges that adolescents face. The hustle and bustle of daily life, combined with the pressures of academic performance, can leave a lasting impact on the body and mind. 
Weakness, fatigue, and exhaustion can affect your energy levels and even the radiance of your skin. Teenvital is formulated to empower you from within. Packed with precisely what your body needs, these tablets offer comprehensive support to maintain your focus and concentration, manage hormonal changes and amplify your skin's natural glow. Our blend of meticulously selected Vitamins, Minerals, and nutrients work synergistically, acting as your shield against the pressure of modern teenage life. 
Benefits
Recommended Daily Intake
For teenagers over 14 years of age; one tablet daily with breakfast. Do not exceed recommended daily intake unless advised by a suitably qualified person.
Free From
Free From Gluten, Dairy, Yeast, Lactose, Wheat, Soya, Peanut, Artificial Colours and Flavours.
Nutritional Information
Teenvital Tablets contains (average):
Nutrient
Value
%NRV
Vitamin A (2666iu)
800µgRE
100
Vitamin D (200iu)
5µg
100
Vitamin E (12iu)
11mgTE
92
Vitamin C
68mg
85
Thiamin (Vit.B1)
1.8mg
164
Riboflavin (Vit.B2)
2mg
171
Niacin
22mg
138
Vitamin B6 (Pyridoxine)
3.7mg
264
Folic Acid
400µg
200
Vitamin B12
2µg
80
Biotin
170µg
340
Pantothenic acid
6.5mg
108
Vitamin K
33µg
44
Calcium
178mg
22
Iron
20mg
143
Magnesium
110mg
29
Zinc
15mg
150
Iodine
165µg
110
Boron
150µg
*
Chromium
30µg
75
Copper
0.8mg
80
Manganese
2.75mg
138
Molybdenum
25µg
50
Selenium
28µg
51
Lutein
275µg
*
*: EC Nutrient Reference Value Not Yet Established
Ingredients
Bulking Agent (tri-calcium phosphate, microcrystalline cellulose, hydroxy propyl cellulose) ,Magnesium Oxide, Potassium Chloride, Vitamin C (Ascorbic Acid), Ferrous Fumarate**, Vitamin E Acetate (dl-alpha tocopherol), Glazing Agent (natural brown colour, veg. glycerine), Nicotinamide, Zinc Oxide, Anti-caking Agent (veg. stearic acid, silicon dioxide, veg. magnesium stearate), Vitamin A Acetate, Manganese Sulphate†, Calcium-D-Pantothenate, Pyridoxine Hydrochloride, Riboflavin, Copper Sulphate, Thiamin Mononitrate, Vitamin D2 (ergocalciferol), Sodium Borate, Lutein, Vitamin K1, Folic Acid, Potassium Iodide, D- Biotin, Chromium Chloride, Sodium Molybdate, Sodium Selenite, vitamin B12. ** This product contains iron, which if taken in excess, may be harmful to very young children †Long term intake of this amount of manganese may lead to muscle pain and fatigue.