KidzProbio (5 billion) 30g Powder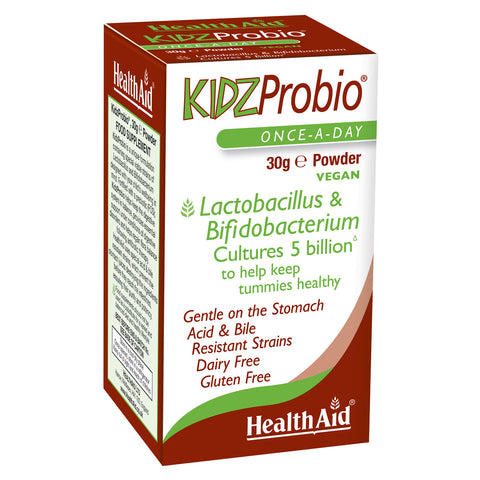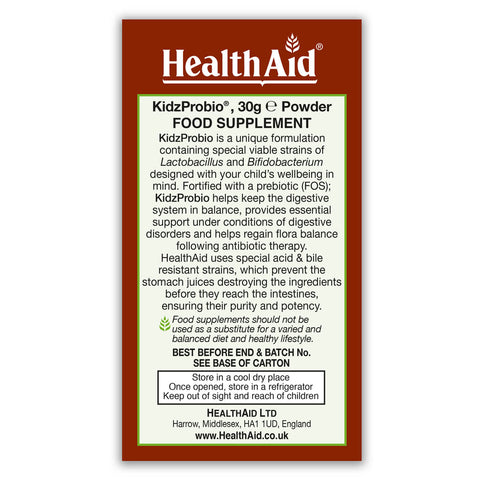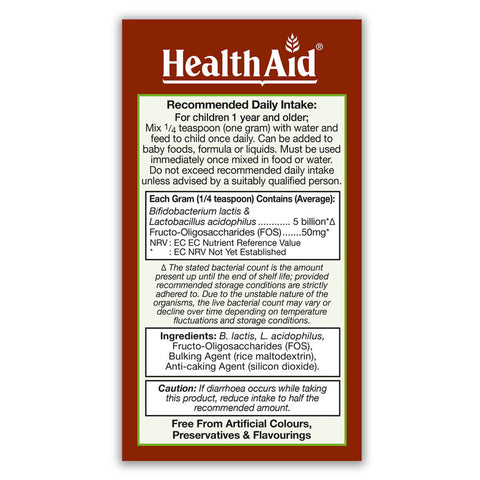 ---
---
A healthy digestive system contains a healthy balance of 'friendly' and 'unfriendly' bacteria. Children need to increase the variation of bacteria in the gut to build their immune system and minimise digestive tract problems.  
HealthAid® KidzProbio™ Powder helps to increase the 'friendly' bacteria, support the immune system and assist in the absorption of nutrients within the gut by providing 5 billion special strains of Lactobacillus and Bifidobacterium (live microorganisms). KidzProbio™ also contains Fructo-Oligosaccharides (FOS), a prebiotic added to help support the growth of 'friendly' bacteria in the intestinal tract. 
Benefits
Recommended Daily Intake
For children 1 year and older; Mix 1/4 teaspoon (one gram) with water and feed to child once daily. Can be added to baby foods, formula or liquids. Must be used immediately once mixed in food or water. Do not exceed recommended daily intake unless advised by a suitably qualified person.
Free From
Free from Artificial Colours, Preservatives and Flavourings.
Nutritional Information
KidzProbio (5 billion) 30g Powder contains (average):
Ingredients
Amount
%NRV
Bifidobacterium lactis & Lactobacillus acidophilus
5 billion*∆
*
Fructo-Oligosaccharides (FOS)
50mg*
*
NRV: EC Nutrient Reference Value*
*: EC Nutrient Reference Value Not Yet Established
Ingredients
B. lactis, L. acidophilus, Fructo-Oligosaccharides (FOS), Bulking Agent (rice maltodextrin), Anti-caking Agent (silicon dioxide).