Kidz Probio (2 Billion) Tablets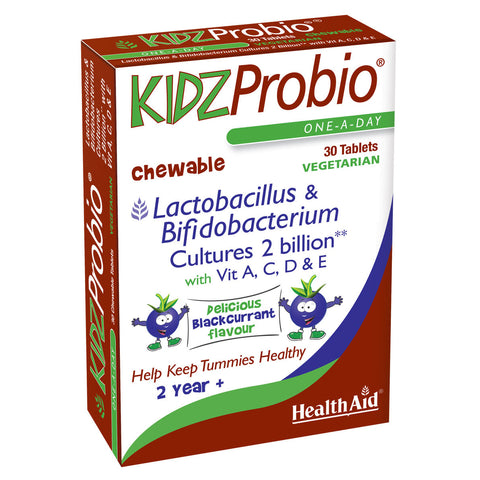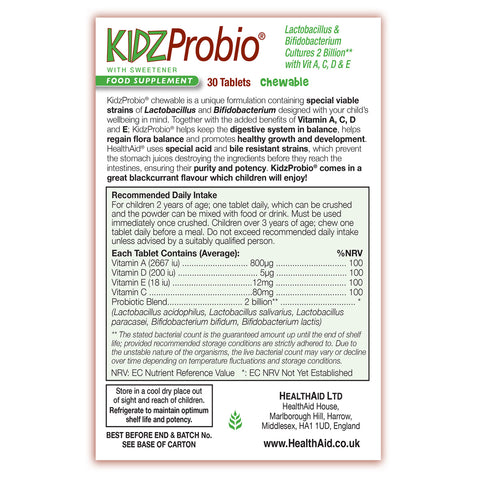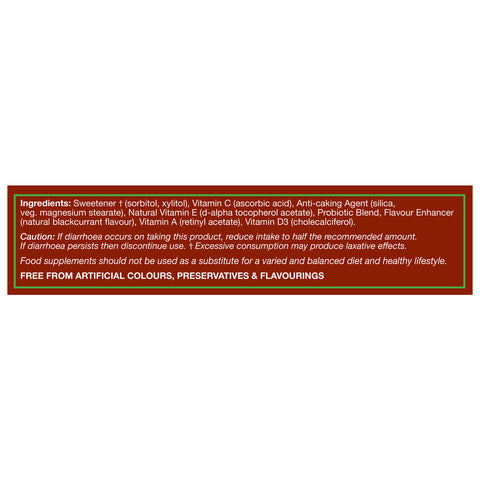 ---
---
HealthAid® KidzProbio™ Tablets helps to increase the 'friendly' bacteria, support the immune system and assist in the absorption of nutrients within the gut by providing 2 billion special strains of Lactobacillus and Bifidobacterium (live microorganisms). KidzProbio™ contains Fructo-Oligosaccharides (FOS), a prebiotic added to help support the growth of 'friendly' bacteria in the intestinal tract. It is also fortified with Vitamins A, D, E and C which play crucial roles in promoting the health and well-being of children.
Vitamin A is essential for maintaining healthy vision, supporting the immune system and aiding in proper growth and development. Vitamin D is crucial for bone health and supports the growth of strong bones and teeth. Vitamin E acts as a potent antioxidant, protecting cells from damage. Vitamin C is vital for collagen production, which is essential for skin, cartilage, and blood vessel health. It also boosts the immune system, helping children fend off illnesses and infections. 
Benefits
Recommended Daily Intake
For children 2 years of age; one tablet daily, which can be crushed and the powder can be mixed with food or drink. Must be used immediately once crushed. Children over 3 years of age; chew one tablet daily before a meal. Do not exceed recommended daily intake unless advised by a suitably qualified person.
Free From
Free From Artificial Colours, Preservatives and Flavourings.
Nutritional Information
Kidz Probio (2 Billion) Tablets contains (average):
Nutrient
Value
%NRV
Vitamin A (2667 iu)
800μg
100
Vitamin D (200 iu)
5μg
100
Vitamin E (18 iu)
12mg
100
Vitamin C
80mg
100
Probiotic Blend
(Lactobacillus acidophilus, Lactobacillus salivarius, Lactobacillus paracasei, Bifidobacterium bifidum, Bifidobacterium lactis)
2 billion**
*
*: EC Nutrient Reference Value Not Yet Established
**: The stated bacterial count combination was incorporated at the time of manufacture. Due to the unstable nature of organisms, the live count may vary and may decline over time depending on temperature fluctuations and storage conditions.
Ingredients
Sweetener (sorbitol, xylitol), Vitamin C (ascorbic acid), Anti-caking Agent (silica, veg. Magnesium stearate), Vitamin E (d-alpha tocopherol acetate), Probiotic Blend, Flavour Enhancer (natural blackcurrant flavour), Vitamin A (retinyl acetate), Vitamin D3 (cholecalciferol).