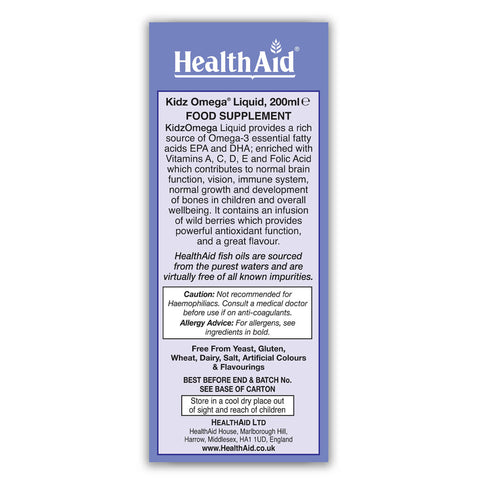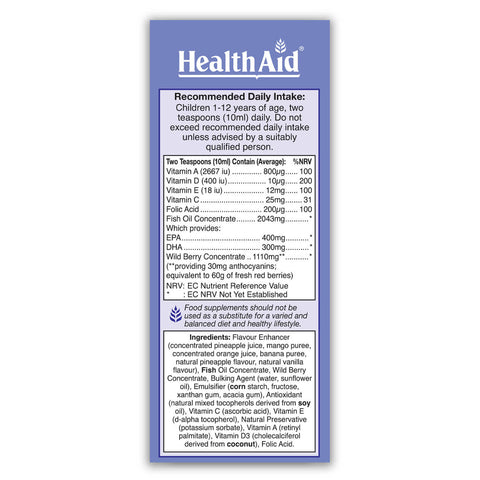 ---
---
KidzOmega® Liquid provides a rich source of Omega-3 essential Fatty Acids EPA and DHA, enriched with Vitamin A, Vitamin D, Vitamin E, Vitamin C and Folic Acid. Each ingredient in the KidzOmega® Liquid formula has been carefully chosen for the benefit of your child's health. Omgea-3 contains fatty acids, EPA (Eicosapentaenoic Acid) and DHA (Docosahexaenoic Acid), which contribute to the normal functioning of the heart, promote cardiovascular health and nurture the development of a healthy brain and normal vision. KidzOmega Liquid is a great addition to children's daily routine for optimal growth and development and cognitive function.  
KidzOmega® Liquid is infused with the essence of wild berries. It is a high-quality form of fish oil, free from all impurities and toxins, ensuring improved absorption and efficacy. 
Benefits
Recommended Daily Intake
Children 1-12 years of age, two teaspoons (10ml) daily. Do not exceed recommended daily intake unless advised by a suitably qualified person.
Free From
Free From Yeast, Gluten, Wheat, Dairy, Salt, Artificial Colours and Flavourings.
Nutritional Information
KidzOmega Liquid contains (average):
Ingredient
Value
%NRV
Vitamin A (2667iu)
800µg
100
Vitamin D (400iu)
10µg
200
Vitamin E (18iu)
12mg
100
Vitamin C
25mg
31
Folic Acid
200µg
100
Fish Oil concentrate
2043mg
*
EPA
400mg
*
DHA
300mg
*
Wild Berry Concentrate
(** Providing 30mg anthocyanins; equivalent to 60g of fresh red berries)
1110mg
*
*: EC Nutrient Reference Value Not Yet Established
Ingredients
Flavour Enhancer (concentrated pineapple juice, mango puree, concentrated orange juice, banana puree, natural pineapple flavour, natural vanilla flavour), Fish Oil Concentrate, Wild Berry Concentrate, Emulsifier (corn starch, fructose, alginate, acacia gum), Bulking Agent (water, sunflower oil), Antioxidant (natural mixed tocopherols derived from soy oil ), Vitamin C (ascorbic acid), Vitamin E (d-alpha tocopherol), Natural Preservative (potassium sorbate), Vitamin A (retinyl palmitate), Vitamin D3 (cholecalciferol derived from coconut), ), Folic Acid.