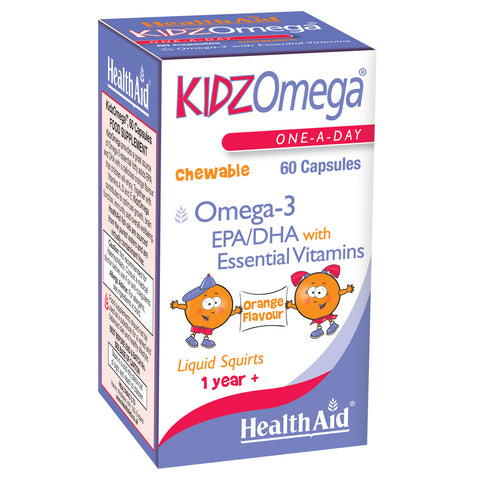 ---
---
KidzOmega Capsules™ provide a great source of Omega-3 essential fatty acids EPA and DHA. Eicosapentaenoic acid (EPA) and docosahexaenoic acid (DHA) contribute to the normal function of the heart and brain and normal vision. KidzOmega Capsules™ is enriched with Vitamins A, D and E to benefit your child's health. 
KidzOmega™ is a high-quality form of fish oil, free from all impurities and toxins, ensuring improved digestion, absorption and efficacy.
Benefits
Recommended Daily Intake
Children 1-6 years of age, one capsule daily; Children 6-12 years of age, two capsules daily. Capsules can be pierced and squeezed into food, drink or formula. Do not exceed recommended daily intake unless advised by a suitably qualified person.
Free From
Free from Yeast, Gluten, Wheat, Dairy, Salt, Artificial Colours, Preservatives and Flavourings.
Nutritional Information
KidzOmega Capsules contains (average):
| Ingredients | Amount | % NRV |
| --- | --- | --- |
| Vitamin A (1333iu) | 400μg | 50 |
| Vitamin D (200iu) | 5μg | 100 |
| Vitamin E (9iu) | 6mg | 50 |
| Fish Oil Concentrate | 600mg | * |
| Which provides: EPA | 198mg | * |
| Which provides: DHA | 132mg | * |
NRV: EC Nutrient Reference Value *: EC NRV Not Yet Established
Ingredients
Fish Oil Concentrate, Capsule Shell [humectant (glycerol), gelling agent (gelatine), sweetener (xylitol), bulking agent (microcrystalline cellulose, corn starch), flavour enhancer (orange flavour), natural colour (carmine)], Natural Vitamin E (d-alpha tocopherol), Vitamin A (palmitate), Vitamin D3 (cholecalciferol).