Children's MultiVitamin + Minerals - Chewable (Tutti-fruity Flavour) Tablets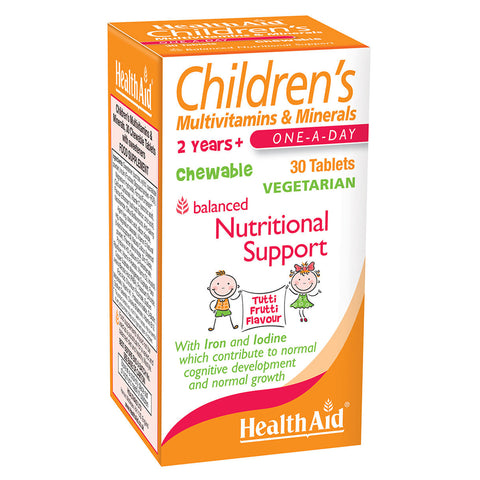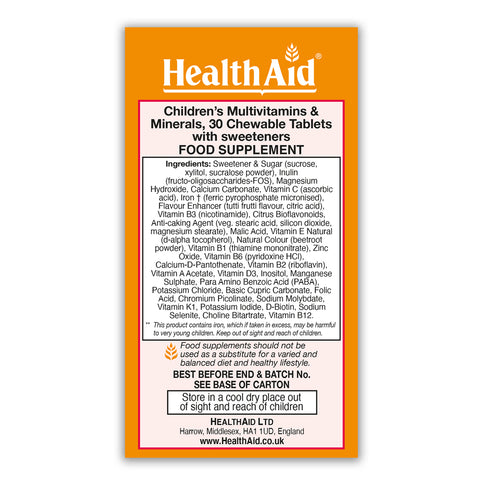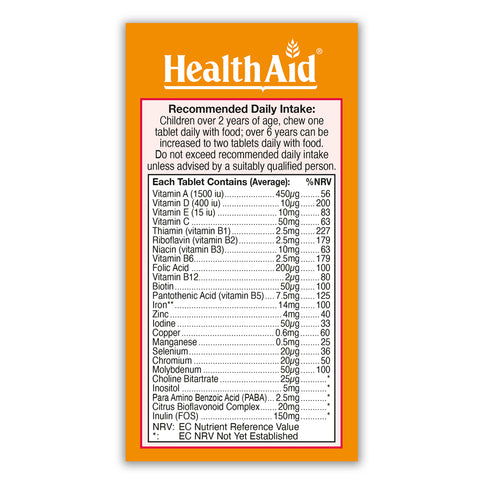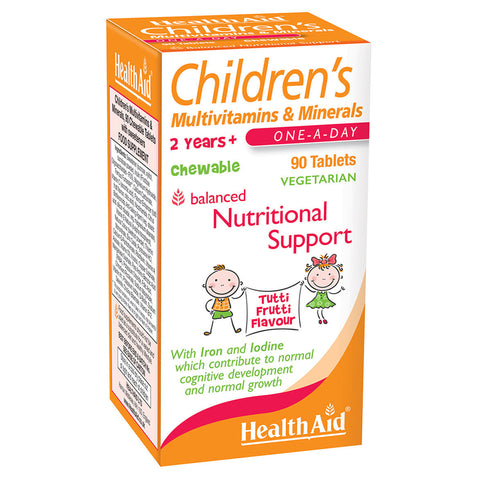 ---
---
Childrens Multivitamin + Minerals are designed to combat today's modern lifestyle where children are often picky eaters or subjected to fast food diets, which may lack vital supplements or are not nutritionally well balanced.  
Childrens Multivitamin + Minerals have been specially formulated to bridge the nutritional gaps in a child's diet and support healthy growth and development. These tablets are packed with a comprehensive blend of 12 essential Vitamins, eight Minerals and five trace elements, which are vital for children's overall well-being. 
Each of these ingredients plays a crucial role in bodily functions, such as supporting the immune and digestive systems, cognitive function, building strong bones and teeth, boosting energy and maintaining healthy skin and vision. For a delicious twist, it comes in a delightful tutti frutti flavour. 
Benefits
Recommended Daily Intake
Children over 2 years of age, chew one tablet daily with food; over 6 years can be increased to two tablets daily with food. Do not exceed recommended daily intake unless advised by a suitably qualified person.
Free From
Free From Yeast, Gluten, Wheat, Soya, Dairy, Artificial Colours.
Nutritional Information
Children's MultiVitamin + Minerals - Chewable (Tutti-fruity Flavour) Tablets contains (average):
Nutrient
Value
%NRV
Vitamin A (1500iu)
450µg
56
Vitamin D (400iu)
10µg
200
Vitamin E (15iu)
10mg
83
Vitamin C
50mg
63
Thiamine (Vit B1)
2.5mg
227
Riboflavin (Vit B2)
2.5mg
179
Niacin (nicotinamide)
10mg
63
Vitamin B6
2.5mg
179
Folic Acid
200µg
100
Vitamin B12
2µg
80
Biotin
50µg
100
Pantothenic Acid (Vit B5)
7.5mg
125
Iron **
14mg
100
Zinc
4mg
40
Iodine
50µg
33
Copper
0.6mg
60
Manganese
0.5mg
25
Inositol
5mg
*
Molybdenum
50µg
100
Choline Bitartrate
25µg
*
Para amino benzoic acid
2.5mg
*
Citrus Bioflavonoid Complex
20mg
*
Inulin (FOS)
150mg
*
Chromium
20µg
50
Selenium
20µg
36
*: EC Nutrient Reference Value Not Yet Established
Ingredients
Sweetener (sucrose, xylitol, sucralose powder), Inulin (Fructose Oligosaccharides - FOS), Magnesium Hydroxide, Ferrous Fumarate**,Calcium Carbonate, Vitamin C (ascorbic acid), Flavour Enchancer (tutti frutti flavour, citric acid), Nicotinamide, Citrus Bioflavonoids, Anti-caking Agent (veg. stearic acid, silicon dioxide, veg. magnesium stearate), Vitamin E Natural (d-alpha tocopherol), Natural Colour (beetroot powder), Thiamin Mononitrate, Zinc Oxide, Pyridoxine HCl, Calcium-D-Pantothenate, Riboflavin, Vitamin A Acetate, Vitamin D3, Inositol, Copper Sulphate, Manganese Sulphate, Para Amino Benzoic Acid (PABA), Potassium Chloride, Folic Acid, Chromium Picolinate, Sodium Molybdate, Vitamin K1, Potassium Iodide, D-Biotin, Sodium Selenite, Choline Bitartrate, Vitamin B12 ** This product contains iron, which if taken in excess, may be harmful to very young children. Keep out of sight and reach of children.