Vitamin B99 Complex Tablets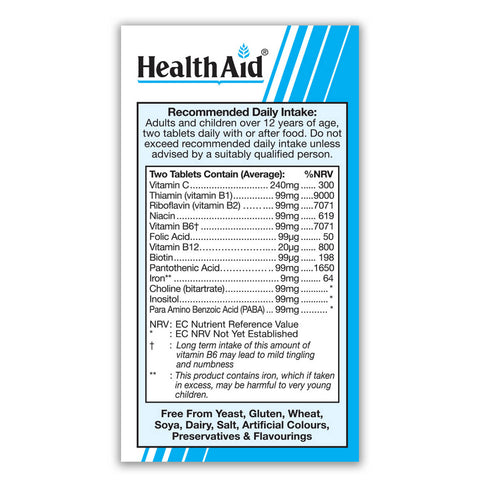 ---
---
Modern-day living, balancing family time and workload can often lead to a depletion of energy converting nutrients such as Vitamin B. Therefore, HealthAid® now offers a Vit B99 Complex Tablets, combining several of the B Vitamins to contribute to the reduction of tiredness and fatigue.
Contained in the Vit B99 Complex Tablets are Vitamins B1, B2, B6 and B12. These B Vitamins contribute to normal functioning of the nervous system, homocysteine metabolism, psychological function, red blood cell formation, the immune system and the reduction of tiredness and fatigue. Vit B99 Complex Tablets are best taken in times of stress and growth development or taken by sportspeople or those leading a very hectic and active lifestyle.
Vitamin C has been added to provide extra cellular protection from oxidative stress. Biotin contributes to normal macronutrient metabolism and the maintenance of normal skin and hair. Choline and Inositol contribute to normal macronutrient and lipid metabolism and the maintenance of normal liver function.
Benefits
Recommended Daily Intake
Adults and children over 12 years of age, two tablets daily with or after food. Do not exceed recommended daily intake unless advised by a suitably qualified person.
Free From
Free from added Sugar and Salt Free from Corn, Gelatine, Yeast, Gluten, Wheat, Starch, Dairy, Lactose, Soya, Nuts Free from Artificial Colours, Preservatives & Flavourings Suitable for Vegans and Vegetarians
Nutritional Information
Vitamin B99 Complex Tablets contains (average):
Nutrient
Value
%NRV

Vitamin C

240mg

300

Thiamin (Vit.B1)

99mg

9000

Riboflavin (Vit.B2)

99mg

7071

Niacin (as nicotinamide)

99mg

619

Vitamin B6 (Pyridoxine) **


25mg

1785

Folic Acid

99µg

50

Vitamin B12

20µg

800

Biotin

99µg

198

Pantothenic Acid

99mg

1650

Iron †


9mg

64

Choline Bitartrate

99mg

*

Inositol

99mg

*

PABA

99mg

*

*: EC Nutrient Reference Value Not Yet Established
Ingredients
Bulking Agent (di-calcium phosphate, microcrystalline cellulose), Vitamin C (ascorbic acid), Anti-caking Agent (veg. stearic acid, silicon dioxide, veg. magnesium stearate), Vitamin B1 (thiamine HCl), Vitamin B2 (riboflavin), Niacin (niacinamide), Vitamin B6 (pyridoxine HCl), Pantothenic Acid (calcium pantothenate), Para Amino Benzoic Acid (PABA), Inositol (PVP 5%), Choline Bitartrate, Coating [hydroxypropyl methylcellulose (HPMC), calcium carbonate, polydextrose, talc, medium-chain triglycerides], natural colours (black, yellow & red iron oxides)],Iron (ferrous gluconate), D-Biotin, Folic Acid, Vitamin B12 (cyanocobalamin).