Vitamin B1 100mg (Thiamin) Tablets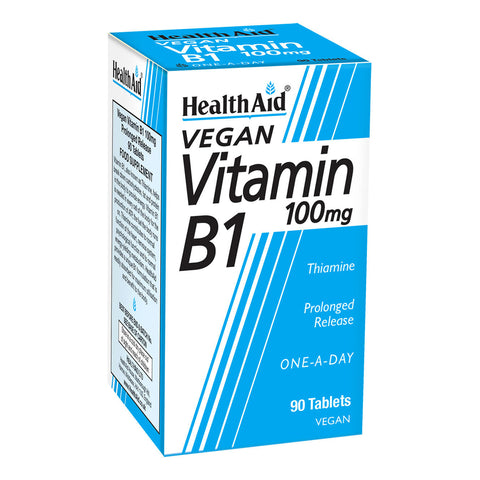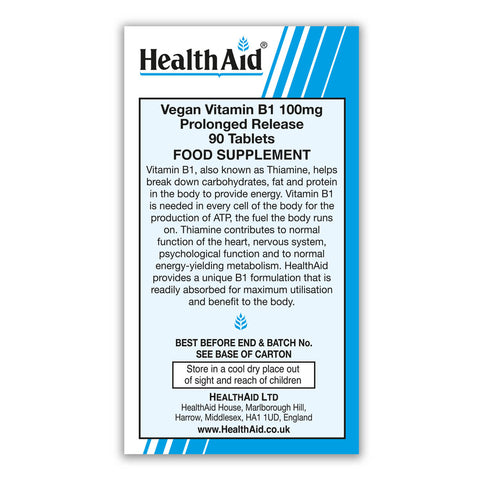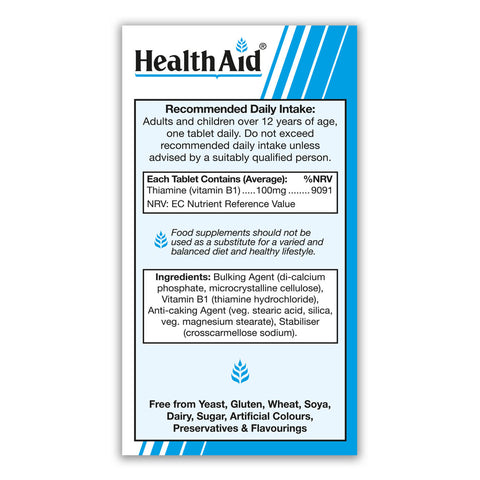 ---
---
Constant fatigue and a general lack of energy can sometimes be explained by a lack of essential Vitamins. There is also some truth in the extra pounds that we just cannot seem to get rid of being a result of a Vitamin deficiency. Thiamin is involved in many complex processes including contributing to normal energy-yielding metabolism and playing a role in an optimal functioning metabolism.
Vitamin B1, also known as Thiamine, helps breakdown carbohydrates, fat and protein in the body to provide energy. Vitamin B1 is needed in every cell of the body for the production of ATP, the fuel the body runs on. Thiamine contributes to normal function of the heart, nervous system, psychological function, and normal energy-yielding metabolism. HealthAid® provides a unique B1 formulation that is readily absorbed for maximum utilisation and benefit to the body.
Benefits
Recommended Daily Intake
Adults and children over 12 years of age, one tablet daily. Do not exceed recommended daily intake unless advised by a suitably qualified person.
Free From
Free from added Sugar and Salt Free from Corn, Yeast, Gluten, Wheat, Starch, Dairy, Lactose, Soya, Nut Free from added Artificial Colours, Preservatives & Flavourings Suitable for Vegans and Vegetarians
Nutritional Information
Vitamin B1 100mg (Thiamin) Tablets contains (average):
| Nutrient | Value | %NRV |
| --- | --- | --- |
| Thiamine (Vitamin B1) | 100mg | 9091 |
*: EC Nutrient Reference Value Not Yet Established
Ingredients
Bulking Agent (di-calcium phosphate, microcrystalline cellulose), Vitamin B1 (thiamine hydrochloride), Anti-caking Agent (veg.stearic acid, silica, veg.magnesium stearate), Stabiliser (crosscarmellose sodium).